HKS 1.8 kit

05-12-2013, 11:06 AM
Junior Member
Join Date: Jan 2012
Location: San Jose, CA
Posts: 144
Total Cats: -3

HKS 1.8 kit
---
There is a HKS 1.8 kit selling for $1400 used. He is claiming that it is a full kit but I wanted to know a few things
1. How is the kit itself vs FM kits
2. Based on the pictures, does the kit truly contain everything?
3. Will this fit an NB1 1.8?

06-05-2013, 02:52 PM

---
There's clearly a downpipe.

There's no way i'd pay $1400 for this piece of ****.


I'd like to see more pictures of the electronics, though... Looks like an old PFC FCON? Which leads me to believe it's not a 1.8 kit.

06-05-2013, 03:13 PM

---
There IS HKS kit parts there.... but it's been bastardized and ****.

If it's truly a 1.8 HKS kit, offer him like... $300 or something. The manifolds weren't TERRIBLE, and it's a T2 frame turbo, so easy upgrading down the road.

And i'll give you like... $30 shipped for the FCON just to put it in my collection.

06-05-2013, 04:38 PM
Supporting Vendor


Join Date: Nov 2006
Location: Sunnyvale, CA
Posts: 15,296
Total Cats: 2,005

---
__________________
Trackspeed Engineering
High-Performance Turbo Specialists - Sunnyvale, CA - 650-701-7223 -
Email us!

06-05-2013, 09:10 PM
Moderator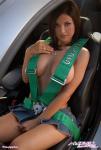 Join Date: Nov 2008
Location: Tampa, Florida
Posts: 19,023
Total Cats: 2,393

---
Those aren't bad manifolds as cast manifolds go. Air to water intercooler is always a bad idea unless you are using a bucket of icewater changed every quarter mile. Little turbo is nothing special.

Mani - $250
Downpipe -$80
Turbo- $300
Thread
Thread Starter
Forum
Replies
Last Post
Miata parts for sale/trade