JRSC-AC dummy pulley available?

02-05-2012, 10:22 AM
Newb
Join Date: Apr 2011
Location: Oxnard, CA
Posts: 4
Total Cats: 0

JRSC-AC dummy pulley available?
---
I have a JRSC m45 on my 95 Miata with AC and power steering. I want to remove the AC system to lighten the car. (90% of the time Miata is used for track days) I want to replace the AC with a dummy pulley. Is there such a thing? Thanks! Rod

02-05-2012, 08:00 PM
Moderator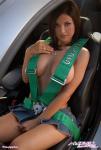 Join Date: Nov 2008
Location: Tampa, Florida
Posts: 19,023
Total Cats: 2,393

---
Power steering pump should go away if you are doing even 50% track days. I ditched the power steering and kept the A/C.

If you think it puts different stress on the brackets to have the A/C pulling on the belt in addition to the PS you are wrong. And the PS mounts to the block and not the head anyway. I just removed the bracket. Your buddy must have been overtightening the crap out of the belt tension. It just needs to be tight enough to not slip under a little bit of drag. The A/C drags more than the PS so it can be less tight without the A/C anyway.

EDIT: For the PS removal I used a shorter belt and used a pair of washers between the compressor and the bracket to adjust tension. It was no big deal.
---
Last edited by sixshooter; 02-05-2012 at

08:11 PM

.

02-16-2012, 12:57 AM
Junior Member
Join Date: Jun 2007
Location: Lenexa, KS
Posts: 129
Total Cats: 0

---

02-21-2012, 03:12 PM
Destroyer of Inconel

Join Date: Apr 2010
Location: *** BANNED ***
Posts: 9,666
Total Cats: 998

---
I think the head he is referring to is the blower head, not the cylinder head. I could see you cracking that if you went all angry monkey on the belt tension. IIRC the MP45s are really not supported all that well...
Thread
Thread Starter
Forum
Replies
Last Post
Miata parts for sale/trade