6 speed - fluff gearchange, lock out gear selection?

06-26-2019, 03:37 PM
Junior Member
Join Date: Aug 2006
Location: UK
Posts: 138
Total Cats: 10

6 speed - fluff gearchange, lock out gear selection?
---
Hi All

I've had a situation a few times where when shifting quickly under heavy acceleration from 4th to 5th it won't drop into gear, and then it locks out - you can't get 6th or 5th or back to 4th, it feels like it jams at the gate. Drop it back into neutral, lift clutch, depress clutch and pray and it will go into 4th, then shift normally again from then on.

I bought it used as with supposed low mileage, it's an NB2 box as it has the later larger shifter bushing. Normal gentle shifts are fine throughout all the gears, it's only if you rush the gearchange a bit when WOT that it gets itself confused.

Any suggestions? Slightly bent selector fork, weak detente spring on reverse meaning it's going across too far, or just the driver being a ham fisted fucktard?

06-26-2019, 05:25 PM
Supporting Vendor

Join Date: May 2010
Location: San Diego
Posts: 518
Total Cats: 55

---
Ham fists. The only real way to fix the 6 speed shifter feel is the MiataRoadster shifter kit. It's expensive but cheaper than a money shift. This isn't a cure all thought and if you really try to send it into 5th you'll still experience the same thing.
__________________
Scooby: Rotrex powered 1992 NA6 - 240WHP/190TQ
Singular Motorsports

06-26-2019, 05:37 PM
Moderator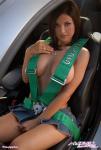 Join Date: Nov 2008
Location: Tampa, Florida
Posts: 19,329
Total Cats: 2,434

---
5th isn't as far to the right as the shifter will move. Going too far right will lock it out of moving forward. MR shifter gives you better feel but won't solve the problem entirely, just makes it easier to find.

06-26-2019, 06:05 PM
Junior Member
Join Date: Jul 2017
Location: Sussex, England
Posts: 138
Total Cats: 15

---

06-27-2019, 04:21 AM
Junior Member
Join Date: Aug 2006
Location: UK
Posts: 138
Total Cats: 10

---
I can see why you don't want to be the first one to try it - HOW MUCH???
Looks to be a lovely bit of engineering though, but €799?
Thanks for the feedback, I'll start saving for the MR kit and look to be less of a 'tard in the future...

06-27-2019, 09:03 AM
Newb
Join Date: Oct 2018
Posts: 5
Total Cats: 0

---
I found the stock shift **** too light for how notchy the 6 speed is. Swapping to a heavier **** helped immensely. If you are only having issues at WOT and are still on the stock motor mounts/diff mounts then the movement of the motor/transmission are probably also at play.

06-27-2019, 09:24 AM
Junior Member
Join Date: Aug 2006
Location: UK
Posts: 138
Total Cats: 10

---
I have stock diff mounts with void fillers. I was on the Mazdaspeed mounts, but have recently swapped to the Supermiata Hybrid mounts as part of the trying to help with this issue.
I've not driven it that much since so not fluffed a shift, but now something rattles behind the dash and drives me nuts

06-28-2019, 08:06 PM
Junior Member
Join Date: Dec 2016
Posts: 89
Total Cats: 13

---
I had this problem for 2 seasons. When it got hot it would start to randomly lockout 5th gear. So I'd be a few laps into an afternoon session and I'd try to grab 5th and nothing. It felt like you missed the gate. I'd be coasting down the straight with the clutch pushed in trying to find the damn gear. I could usually go into 6th or back down to 4th since I dropped so much speed, but at that point I'm flustered and concentration is shot.

Ended up rebuilding the box this winter due to 3rd gear syncho being toast. At that time I replaced the 5th/rev shift fork and clutch hub along with all the synchros. Zero issues now.
Thread
Thread Starter
Forum
Replies
Last Post
Suspension, Brakes, Drivetrain