Mazdaspeed Miata Axle info

10-02-2017, 10:36 PM
Senior Member

Join Date: Apr 2011
Location: Jonesboro Arkansas
Posts: 551
Total Cats: 24

Mazdaspeed Miata Axle info
---
I hope this is good enough to become a sticky. I searched hard and did not find this info anywhere.
The 2004-2005 mazdaspeed miata was produced in small numbers. There were several things that made the msm stand out from the other miatas of the time. We all think about the turbo or the diff. But one thing most people don't think about is the axles for the diff. Take a look at ebay you will find a sea of msm diffs for sale but no axles. Even here the same issue is present. When you look up axles for a msm you get the whole "fits" msm thing that vendors like to do when they assume it will work. I ordered a set from Oriles and Advanced with the key term "fits" msm and neither fit.
So whats the deal?
There are simply no aftermarket msm axles available. Mazda sold some for a while but has since stopped, they even sold rebuild parts.
Here are the differences. Note: The side going into the diff is the only side with differences.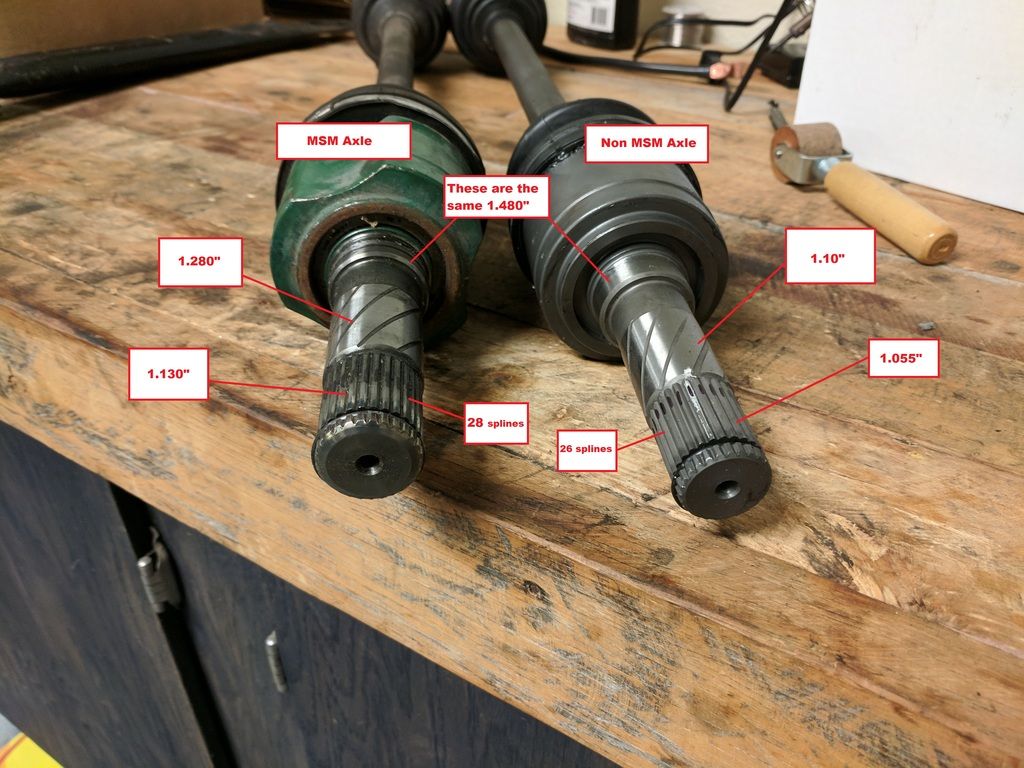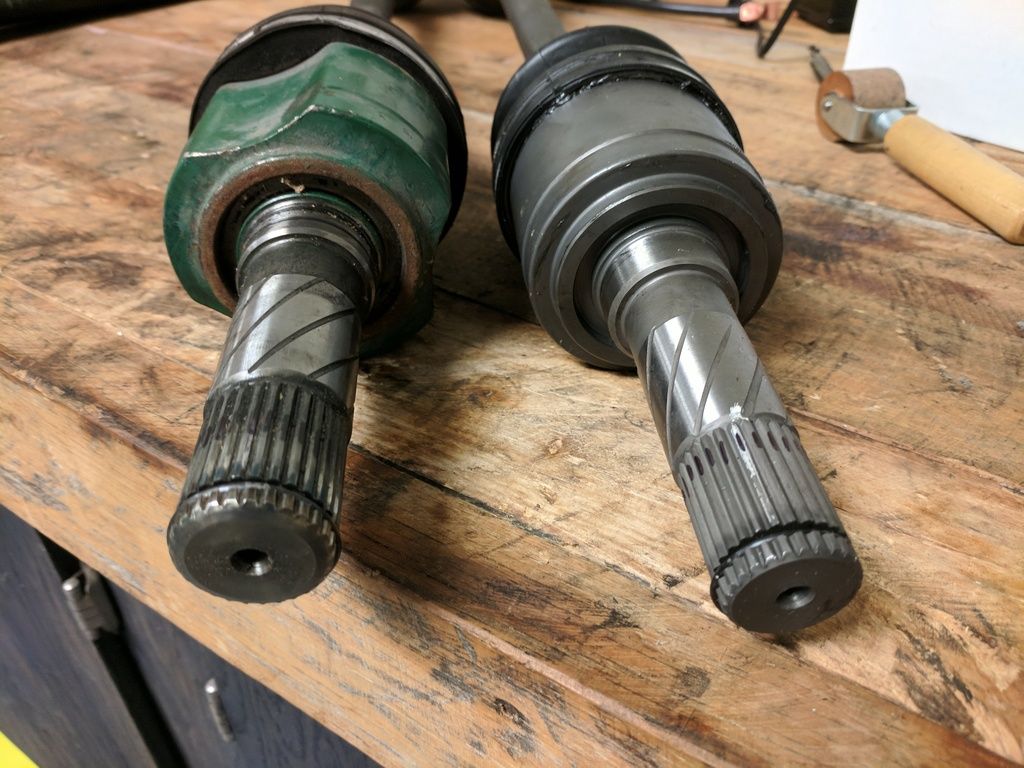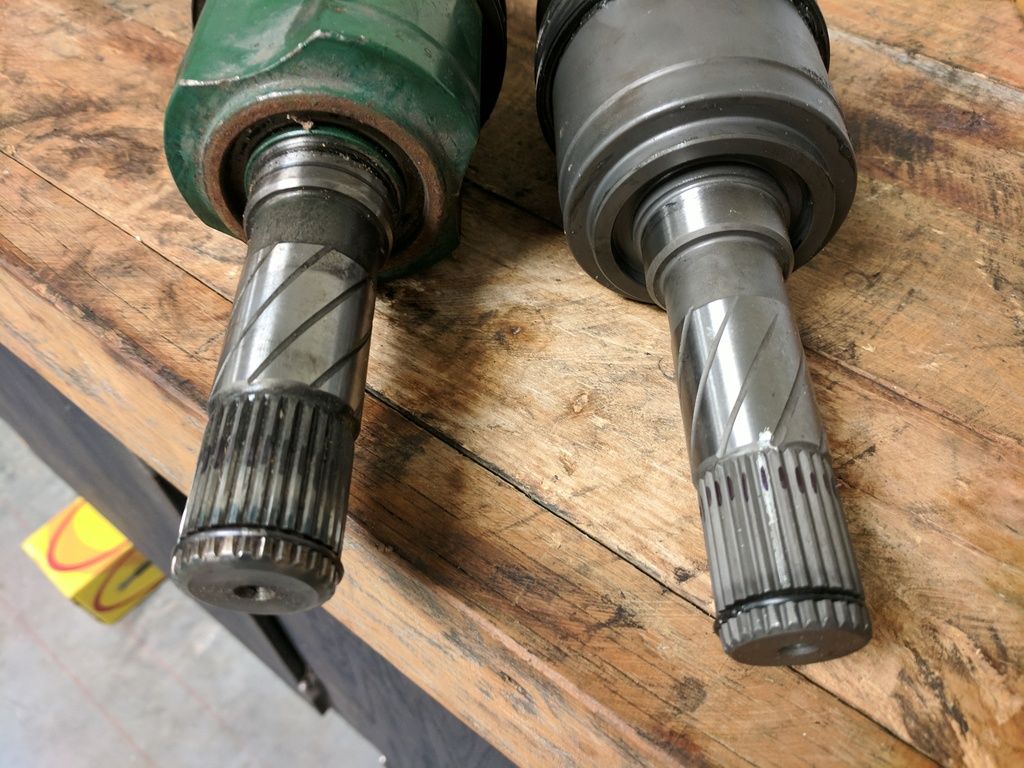 I have sent a msm axle to the driveshaft shop, they are hoping to start producing axles. I will update you guys when they tell me more.

10-03-2017, 04:55 AM
Junior Member
Join Date: Oct 2012
Posts: 124
Total Cats: 23

---
In for replacement axles as I may need some one day. I'd always figured there are enough places that make custom half shafts that I could probably get some made but might be a bit expensive for just one set. I think the inner CV joints might be the same as the Honda S2000 as they share the same differentials but never really checked it out. Probably have the same issue with the turbo SE's they sold in Australia and the factory Japanese versions too if they used the same axles which I assume they would have.

10-03-2017, 11:19 AM
Elite Member

Join Date: Aug 2011
Posts: 10,247
Total Cats: 1,602

---
Mike @ MFactory hinted that there was something probably aftermarket or off the shelf that might work due to the relationship with the S2000. He didn't really go into much detail because of vendor status.

10-18-2017, 11:14 PM
Senior Member

Join Date: Apr 2011
Location: Jonesboro Arkansas
Posts: 551
Total Cats: 24

---
So I have an update on this. The Driveshaft Shop said they can make these. I am sending them my spare msm diff so they can make it perfect. So hopefully soon we will see the first set.

02-21-2018, 10:57 PM
Senior Member

Join Date: Apr 2011
Location: Jonesboro Arkansas
Posts: 551
Total Cats: 24

---

02-22-2018, 08:43 AM
Senior Member
Join Date: May 2010
Location: Cedar Rapids
Posts: 780
Total Cats: 45

03-14-2018, 10:58 AM
Senior Member

Join Date: Apr 2011
Location: Jonesboro Arkansas
Posts: 551
Total Cats: 24

---