TKO 500/600 Swap

02-17-2019, 12:56 PM
Junior Member
Join Date: Jan 2018
Posts: 56
Total Cats: -94

TKO 500/600 Swap
---
Trying to get an idea on what to do for drivetrain. Iím not purchasing this right now (TKO 600 is $3,000+) but I will be in a year or two once I get to the point of putting in boost. For now the forged rotating assembly is the first thing on my list.

Anyways, I canít seem to find the input shaft specs for the 6-speed I have right now. Jegs sells a Quick Time Steel bellhousing that bolts directly to the the BP and TKO 500/600. Uses a Miata flywheel and everything. But Iím not sure about the clutch spline and pilot situation on the TKO. Would I have to have a custom input shaft made?

Fabning up the torque mount is pretty easy, which is why I wanted to do the TKO swap as the bulk of the cost is in the transmission itself which will hold 600 lb-ft of torque, more than enough for a turbo BP.

Also wondering how the shifter situation would be handled, I donít know if thereís a kit out there for this purpose, doesnít seem like the TKO swap is all that common.

02-17-2019, 08:16 PM
Moderator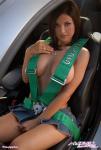 Join Date: Nov 2008
Location: Tampa, Florida
Posts: 19,304
Total Cats: 2,434

---
You might want to look at the KMiata BMW transmission swap kits. I have the 6 speed swap and a friend has the 5 speed version. Holds more power than the built Miata motor can make and shifts like a rifle.
Thread
Thread Starter
Forum
Replies
Last Post
Miata parts for sale/trade
Miata parts for sale/trade
Miata parts for sale/trade