V8R X-Lite control arms: some assembly required

10-06-2018, 07:30 PM
Elite Member

Join Date: Jun 2012
Location: NH
Posts: 9,344
Total Cats: 86

---

10-08-2018, 08:35 PM

---
More info out of Bob today.
"This is what I found when I took it apart. On the left is the kingpin. On the right is the end of the arm, and the socket. It all looks intact and in good shape"
" The good on on the left, and the failure on the right.
There is a ball inside of a race installed into the machined pocket in the arm.
The king pin fits down through the center of the ball.
That small cap screw holds the gold colored cap in place, and retains the king pin. "
"Failure on the right. The cap screw broke just under the cap, allowed the king pin to come out of the socket.
The entire weight of the car is dependent on that one cap screw.
I tried to get the other cap screw out, but I couldn't. Maybe they were over tightened?"
---
Last edited by Dietcoke; 10-08-2018 at

08:49 PM

.

10-08-2018, 09:10 PM
Senior Member

Join Date: Nov 2015
Location: Berkeley, CA
Posts: 809
Total Cats: 255

---
That LBJ uniball adapter is very reminiscent of the "early version" UBJ adapters that I believe
TNTUBA
broke. For the upper arm at least, that was superseded by a new version with a larger bolt going through both the bearing and the upright using a tapered spacer.
As shown in the first post, fear of similar issues and setup problems led me to DIY my own, more robust UBJ adapters (below). I can't imagine running that LBJ adapter as pictures; it's a bummer that it broke on him before he became aware of potential issues :(

10-10-2018, 07:45 AM
Senior Member

Join Date: Jan 2011
Location: Chattanooga, Tn
Posts: 1,127
Total Cats: 221

---
I broke an upper ball joint. I used the lowers for about half a season then got around to measuring the roll centers.....which were actually worse than stock. They made me some longer lower ball joint pins to correct the roll centers, but then the control arm it's self hit the brake disk. I abandoned the front lowers but still use the billet V8R Front uppers and their tubular steel rear uppers and lowers.

I am changing spindles this winter and a few other things. I was thinking about revisiting the front lowers...but I'm not 100% sure now.

Ball joints fail. I've seen stock ones, extended ones, OEM and parts store ball joints fail...that's what they do and why you need to replace them early and often

01-16-2019, 04:49 PM
Newb
Join Date: Oct 2018
Posts: 6
Total Cats: 1

---
I realize this thread is a bit old, but are the tubular arms from V8R as bad as the x-lite ones? I thought they were pretty well regarded for making quality stuff, but this thread has me wondering. Anyone care to school the newb?

01-16-2019, 05:17 PM
Moderator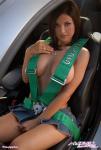 Join Date: Nov 2008
Location: Tampa, Florida
Posts: 18,577
Total Cats: 2,292

---
They went through couple of different variants on the steel design as time went on. I don't know of any issues. Tony Montana just built his car with them.

Here's another car I've seen with some of their stuff on it.
---
Last edited by sixshooter; 01-16-2019 at

05:28 PM

.
Thread
Thread Starter
Forum
Replies
Last Post
Miata parts for sale/trade
Miata parts for sale/trade
Miata parts for sale/trade
Miata parts for sale/trade