Rim and Tire Size help 2001 SE

01-22-2018, 09:32 PM
Newb
Join Date: Jan 2018
Posts: 2
Total Cats: 0

Rim and Tire Size help 2001 SE
---
Hi,

My son has a 2001 Miata SE with Flying Miata Springs and bilstein struts, so I was told it is lower than stock. He wants to switch the look. He wants to go to 15" (car has 16") rims that are slightly deeper. I know nothing about rims and tires but know that he can't just buy 15's and have them fit (unless totally lucky). What size rims and tires would accomplish this with out and other modifications. I would want to be able to just take the old rims and tires off and put new rims and tires on. Please be as specific as possible so I would know exactly what to look for.

Thanks for your help ,
David

01-22-2018, 11:40 PM
Senior Member
Join Date: Jul 2016
Location: San Diego
Posts: 558
Total Cats: 53

---
Hi David,
That's a tough one as there isn't enough information.
- why does he want 15" wheels
- how does he use the car - track, auto-cross, daily driving around town?
- how low does he want the car to be?
- is he willing to change suspension to make things work with new wheels if the ones he wants don't fir with FM springs?
- how wide he wants the wheels to be?
- is he going to have aggressive alignment/camber?
- is he doing this for looks or function?
A good place to look would be Miata specific wheel vendors like 949 Racing, Good-Win Racing, Flyin Miata, Moss Miata and others.
Good-Win has some decent info about most of their wheels including weight, size, needed modifications, fitment problems, etc.
Miata Wheels - Mazda Performance Parts
I would recommend giving them a call. You can also go to Miata.net forum and see pictures of different wheels on different miatas that Brian from Good-Win posts.

01-23-2018, 02:32 AM
Elite Member
Join Date: Jul 2007
Location: Houston, TX
Posts: 3,175
Total Cats: 150

---
It literallly would have been 10x faster to google this than sign up here and write that post. Since your retarded, I would go to Goodwin racing or 949racing and orider any 15x8 you like and any 205 tire, then sign up for some adult ed classes

01-23-2018, 06:18 AM
Newb
Join Date: Jan 2018
Posts: 2
Total Cats: 0

---
That's for the response.
Looks (not function)
Street (non racing)
No further mods wanted
Going lower an inch wouldn't be bad.
Wheels wide as possible without making mods.
no aggressive camber or alignment.

Jacob, I was going to write something negative back but that likely wouldn't help you. Good luck.

01-23-2018, 08:21 AM
Moderator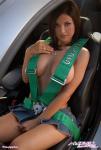 Join Date: Nov 2008
Location: Tampa, Florida
Posts: 19,096
Total Cats: 2,404

---

01-23-2018, 11:35 AM
Senior Member
Join Date: Jul 2016
Location: San Diego
Posts: 558
Total Cats: 53

---
Yes, if it's mostly for style then any of the miata specific wheels like 6UL in 15x8 will be a great way to go. Light and strong and still useful if he decides to get into this more seriously. They also hold value very well.

01-23-2018, 03:43 PM
Elite Member
Join Date: Feb 2013
Location: Staunton, Va
Posts: 3,183
Total Cats: 389

---
fixed for ya
side note for OP- anything in the big RACK that sells wheels stated as being specific for a miata- was stolen. More specifically, a design that was stolen from 949 Super Miata. support the guy who actually develops parts for us.
Thread
Thread Starter
Forum
Replies
Last Post