V-8 Miata anyone? 302, T-5, 8.8, full cage and lots more......

09-10-2018, 02:02 PM
Newb
Join Date: Nov 2008
Location: Northeast PA
Posts: 35
Total Cats: 5

V-8 Miata anyone? 302, T-5, 8.8, full cage and lots more......
---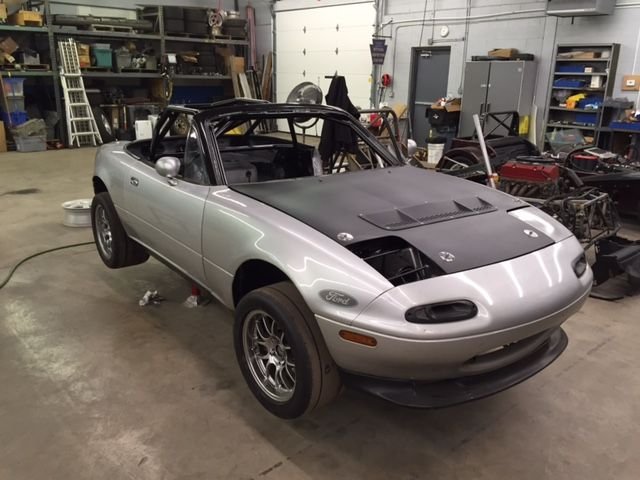 Its come time to list my V-8 Miata for sale as I simply don't have time to use all of the cars and motorcycles that are sitting here at the shop. It's done and just needs a complete "nut and bolt" once-over for your own piece of mind and an alignment to your specs.
It's been an on-going project for me, but remains driveable. I bought it a few years back from a friend in SC and immediately began "upgrading" the car to the point it is today. Other than installing headlights(stock ones included with the car), there isn't much more that can be done. Here's a rundown of what's in the car and a list of what I spent so far:
*** The winner of the 2003 GRM Challenge originally built by Mongrel MotorSports ***
- 1990 chassis that is totally rust-free probably because it's been a "toy" for many years and kept in a garage.
- Ford 302 with unknown compression ratio, but revs quickly so I would guess 10.5 or 11:1 at least. AFR 165 aluminum heads. Aluminum ratio roller rockers. Edelbrock Victor Jr intake manifold converted to EFI. Edelbrock 70mm throttle body. TwEECer tuner. Meziere electric water pump. Peterson remote oil filter block. Aeromotive fuel pressure regulator. MSD 6A. Aluminum Mustang radiator with 15 or 16" electric fan. All -AN lines for fuel and oil. 3" exhaust from collector to exit in the stock Miata location. SpinTech muffler.
- T-5 5-speed transmission. SFI rated bellhousing. White Lightning shifter relocator. Driveshaft safety loops.
- Ford 8.8 rear with aluminum housing w/ Eaton Tru-Trac, Torsten or Quaife differential(can't recall) and 3.27 gear. Martin MotorSports axles. Axle safety loops. Custom tubular mount.
- 15x9 6UL wheels with Hoosier 275/35/15 R7's.
- 15x8 6UL wheels bare.
- 15x7 with 225/50/15's. I can't remember the wheel model or tire type but will check.
- Corrado front brake rotor conversion with 1.8 calipers. 1.8 rear brakes.
- Koni struts on all 4 corners. Will check spring rates too. Flyin Miata spherical hats on rear.
- Nascar style sway bars with aluminum arms and rod-ends as end-links.
- AWESOME cage made with 1.5"x0.125" DOM tubing. No side bars but I did weld in the mounting plates so they can be added in the future if necessary. Ties to firewall in several places as well as the windshield frame. Also fits under a stock gutted hardtop!
- UltraShield 17" 10* layback aluminum seat mounted to the floor and a back brace to the cage. New G-Force 5-point camlock belts. Grant 13" steering wheel with Miata Cage splined quick-release. Longacre billet shift ****. Stock carpets.
- Autometer oil pressure and water temp in dash vents, custom switch/fuse panel in center "tombstone". Stock dash reinstalled around the cage. Looks fantastic.
- new windshield.
- custom front splitter made
from 3/8
" HDPE and mounted below a copy of a Garage Vary airdam. BlackBird Fab Works tinted rear spoiler reinforced and coated with 3M film on both sides. Hood has a Ford GT500 hood extractor installed. The hood is secured with 4 hoodpins and the trunk is held down with 2. Hood, trunk and rear filler panel are painted House of Colors "Hot Rod Black".
I have used it a few times to commute back and forth from my house to the shop, around 20 miles and run to the parts store numerous times. I bought the car at the wrong time in life, it's a long story, but with a new house and an ill fiancée, I need to spend more time at home and less at the shop. That's why I have 5 or 6 things that need to get sold. I now spend all my free time at home playing in the yard doing landscaping!
I can go to the shop, turn the key, pull the ignition button, hit the start button and it fires right off. Starts, idles and runs just fine. Basically it's a toy. I bought it as one, built it further as a trackday/hillclimb car but still kept it civilized enough to run around town with.
I keep a tally on all of my projects and here is my list on this car to date.
$$$ invested
Purchase price(Ted T.) $7500
Pick-up expenses(Porsche pickup & Staunton) $450
15x8 949 6UL wheels(Club Roadster Miata forum) $500
15x9 949 6UL wheels(CR forum) $550
275/35/15 tires(John Berget Tire) $480
Mounting and balancing(Pittston Tire)$80
Exhaust system tubing, bends, clamps & Spintech muffler) $210
Air dam, splitter material & hardware $210
Tow loops $40
Oil catch can(DSR forum) $60
Valve covers and gaskets(eBay & A&A) $120
Hood extractor(online Ford dealership) $135
Steering quick release(MiataCage) $145
Steering wheel(A&A Auto) $120
Rollcage materials(Nivert Metal) $650
Windshield(Northeast Auto Glass) $180
Paint supplies for hood & trunk(Graziano Collision) $100
Carbon Miata flares(Planet Miata) $315
White Lightning shifter relocator(American Powertrain) $435
Carpet, console & pass seat(DB Automotive) $180
Braided lines and fittings for oil & fuel(A&A) $165
Intake rubber adapter(A&A)$26
Oil filter remote housing(DSR forum) $62
Well-nuts for dash(Two Jacks Cycle) $11
AutoMeter oil pressure sending unit(A&A) $34
Lugnuts(A&A) $22
Oil filter(A&A) $8
Split collars(Fastenal) $22
G-Force 5-pt harness(A&A) $157
Ultrashield Pro Road Race seat $414
Rear spoiler(blackbird Fab) $368
3M film on rear spoiler(JW Tire) $40
Longacre shift ****(A&A) $27
Clutch slave cylinder(A&A) $16
Vitaloni mirrors(ApexSpeed) $115



Total to date $13,967
In order to move this along to its next owner, I would sell it for what I have invested in it. I didn't calculate any labor costs into the above list. Normally I charge $2500 for a full Spec Miata cage like what I have in this car just without the door bars. I only have the material costs in my calculations. Basically $14,000 buys the car with all 3 sets of wheels. I would be willing to keep certain items like the 6UL wheels, UltraShield seat, uninstalled flares and the trunk with the spoiler in order to reduce the price. Basically deduct the cost above from $14k.
If you have an interest in talking about any part of the car, feel free to give me a call.
Dan
(570)417-5567
Here is a link to a photobucket album of all the pictures that I have of the car.
V-8 Miata by Daniel Lipperini Jr | Photobucket
---
Last edited by w650gb500; 10-02-2018 at

10:15 PM

.

09-12-2018, 08:14 AM
Newb
Join Date: Nov 2008
Location: Northeast PA
Posts: 35
Total Cats: 5

---
I've been asked what parts I'd be will to remove from the car and how far I could get the price down. Here is what I came up with.

without the 15x9 6UL wheels and Hoosiers(-$1000) $13,000
+ without the 15x8 6UL wheels(-$500) $12,500
+ without the UltraShield seat and brace(-$500) $12,000
+ without the trunklid and rear spoiler(-$500) $11,500

I have a stock trunklid and drivers seat as well as the 15x7 wheels that the car originally came with.

Thanks for your interest,

Dan

09-15-2018, 11:18 AM
Newb
Join Date: Nov 2008
Location: Northeast PA
Posts: 35
Total Cats: 5

---
A "gutted" hardtop will fit over the cage. It's the same design that I have used in over 50 Spec Miata cages in the past and that is how they are built. I have an old cracked stock hardtop that I put on the car and then bend/build/weld inside to ensure fitment.

The car is in my shop in Exeter, PA zip code 18643.

Hopefully I will get a driving video put together this coming week.

11-18-2018, 06:00 PM
Newb
Join Date: Nov 2008
Location: Northeast PA
Posts: 35
Total Cats: 5

---
A bit of an update.

1. A few weeks ago I did something stupid and ended up snapping the drivers side rear axle. It was the original DIY welded/sleeved unit that the original builders put together back in 2003. It held up for 15 years, but has since been replaced by a new axle from Martin at Monster Miata along with a complete disassembly/regrease of the tripod and CV joints and new boots. Since Martin only sells axles in pairs, there is a new "spare" that will come with the car. The passenger axle is already a Monster Miata unit and has new boots as well.

2. Following a few test drives, the rear of the car was "bottoming out" when I had a passenger riding along. I had to raise the ride height a bit as well as add Energy Suspension progressive urethane bumpstops to all 4 Koni coilovers. Also set the shocks to halfway between soft and stiff. It rides much better now and if the weather decides to ever cooperate, I'll make and post a driving video.




11-18-2018, 08:15 PM
Newb
Join Date: Nov 2008
Location: Northeast PA
Posts: 35
Total Cats: 5

---
I went on a test drive with a prospective buyer and when we returned to the shop, I drove to the back parking lot to where I have a nice fresh and flat piece of asphalt. I revved it a bit, slipped the clutch and got the 275/35-15 Hoosier R7's spinning. Once it gained some ground speed, I grabbed 2nd gear and heard a "bang". I quickly grabbed the clutch while the car rolled forward. I let the clutch out a bit and there was no drive, so I knew it was an axle that broke. Luckily the car has safety loops on the rear axles and driveshaft so there was no further damage. They did their job!

Just a $600 burnout.

.......And no, the prospective buyer didn't purchase the car. It wasn't breaking the axle that turned him off, it was that his size 12 shoes didn't fit comfortably in the foot box. It was too tight for him. Oh well. If it sells, I'll put the $$$ into house renovations. If not, I'll be forced to drive it next season.
Thread
Thread Starter
Forum
Replies
Last Post
Miata parts for sale/trade
Miata parts for sale/trade