To the Moon! (no, really!)

01-12-2015, 01:17 PM
Boost Pope

Join Date: Sep 2005
Location: Chicago. (The non-murder part.)
Posts: 29,308
Total Cats: 2,914

To the Moon! (no, really!)
---
So the company Astrobotic is planning a commercial moon landing in 2015.
For real.
https://www.astrobotic.com/
Now, aside from "normal" commercial and scientific payloads which can be delivered to the surface of the moon for a paltry $1.2 million per kilo, they are also offering "MoonMail," a service which will allow people to send very small personal objects aboard the spacecraft for a much lower cost.
For instance, a hexagonal payload container measuring 1" dia by 0.25" in thickness can be purchased for only $3,270.
That is an absolute bargain. I mean, I paid more than that for my car, and it's never been more than a few feet off the earth.
https://www.astrobotic.com/moon-mail/order
My first thought was obviously to wonder what percentage of the MoonMail container's total payload volume is going to wind up filled with small monoliths.

01-12-2015, 06:40 PM
Moderator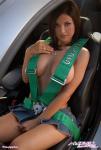 Join Date: Nov 2008
Location: Tampa, Florida
Posts: 19,271
Total Cats: 2,432

01-23-2015, 02:20 PM
Supporting Vendor


Join Date: Jul 2006
Location: atlanta-ish
Posts: 12,651
Total Cats: 111

---
Yeah but they don't send it back to you, Sam. It's not moon and back. It's a one way trip to send your crap, consolidated with a bunch of other peoples' crap, to the moon.

I've seen some dumb things today. By far, this is the dumbest.
Thread
Thread Starter
Forum
Replies
Last Post
Current Events, News, Politics