Obama uses EPA to shut down coal dependent towns

06-06-2012, 07:39 AM
Moderator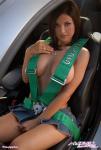 Join Date: Nov 2008
Location: Tampa, Florida
Posts: 19,333
Total Cats: 2,434

Obama uses EPA to shut down coal dependent towns
---
From the article found
here.
Back in 1992, in his speech to the Republican National Convention, Pat Buchanan railed against the "environmental extremists who put birds and rats and insects ahead of families, workers, and jobs."
This was widely seen as an unfair caricature of liberal environmental policy in 1992. In 2012, it's practically a bloodless statement of fact.
The Obama administration's Environmental Protection Agency (EPA) has, in fact, been doing its best to validate this description, either through policy or highly revealing slips of the tongue. The most recent of the slips comes from EPA Region 1 Administrator Curt Spalding, who
was captured in a video released by the office of Senator Jim Inhofe (R-OK)
telling an audience at Yale University the following:
But know right now, we are, we are struggling. We are struggling because we are trying to do our jobs. Lisa Jackson has put forth a very powerful message to the country. Just two days ago, the decision on greenhouse gas performance standard and saying basically gas plants are the performance standard which means if you want to build a coal plant you got a big problem. That was a huge decision. You can't imagine how tough that was. Because you got to remember if you go to West Virginia, Pennsylvania, and all those places, you have coal communities who depend on coal. And to say that we just think those communities should just go away, we can't do that. But she had to do what the law and policy suggested. And it's painful. It's painful every step of the way.



Hear the comments from Spalding's own mouth here:
To Spalding's credit, he at least sounds regretful that the EPA (according to him) absolutely has to drive an entire industry into the ground for no apparent reason. Nevertheless, this video will do nothing to assuage the image of President Obama as an essentially anti-coal President who is using his EPA to try to strangle the industry – an image that has yielded political humiliation for the President in Appalachia, where coal is one of the leading sources of employment.
One almost feels sorry for President Obama's sake that "birds and rats and insects" can't vote…at least, not outside Chicago.
-end of article
-I find it interesting that the union coal workers and railroad workers that this effects have been relegated to cannon fodder by their own party. Environmentalists are ruthless if anything.
-S.

06-06-2012, 08:46 AM
Slowest Progress Ever

Join Date: Oct 2007
Location: The coal ridden hills of Pennsylvania
Posts: 6,017
Total Cats: 289

---
This fires me up pretty hardcore, for several reasons.
First, I live in a coal region of Pennsylvania.
Second, I despise Hussein and his ways.
Lastly, EPA does good things, but they do a lot of things I don't agree with. It's like saying "you can't drill for oil because there is a rare earthworm that will be disturbed."

06-06-2012, 08:59 AM
Boost Czar

Join Date: May 2005
Location: Chantilly, VA
Posts: 76,633
Total Cats: 2,318

---
That's because their job (and those of the FCC, FDA, and alike) is more like what the Geheime Staatspolizei was for **** germany.
On Aug. 24, 2011, armed agents from the U.S. Fish and Wildlife Service raided two of Gibson's Tennessee production facilities and its Nashville headquarters.

The agents confiscated nearly $1 million in rare Indian ebony, finished guitars and electronic data, according to Juszkiewicz. It was the second time in two years that Gibson's factories have been raided by the feds over the rare woods it uses to build its guitars.
An anonymous Crime Stoppers hotline tip led
animal control officers
from the
Jefferson County (Colo.) Sheriff's Office
to descend upon Bell's one-acre farm at about 10:30 that morning and, before the day was over, remove nearly 200 rabbits from the property.The 59 year old was being accused of 24 misdemeanor charges of cruelty to animals, including charges that she somehow mistreated two meat rabbits already inside her freezer.
...Upon arriving home at about 1:40 p.m., she found the animal control officers being unreasonable and milling about on her property —
without a search warrant
...
Thread
Thread Starter
Forum
Replies
Last Post