95 Turbo - where'd my exhaust go?

06-16-2018, 05:40 PM
Newb
Join Date: May 2016
Posts: 19
Total Cats: -1

95 Turbo - where'd my exhaust go?
---
Hi guys, just turboed my 95 miata with an SR20 T25, FM mani/outlet/downpipe, magnaflow HFC & yonaka cat-back (2.5" exhaust). Got tuned to 185whp/175wtq @ 11psi. Feels solid, however the new intake noise totally drowns out my exhaust. What do you think I can do without affecting my brand new tune?
FM air box & hush kit?
https://www.flyinmiata.com/na-fm-turbo-hush-kit.html
(should fit w/ my current intake setup)
Resonator delete?
---
Last edited by guacamole; 06-16-2018 at

07:08 PM

.

06-26-2018, 08:43 PM
Boost Pope

Join Date: Sep 2005
Location: Chicago. (The non-murder part.)
Posts: 29,086
Total Cats: 2,846

---
If you don't enjoy the sound of a compressor intake spinning up, there's not much that anyone on this forum is going to be able to say that will help you.

Best case, buy the latest Nickleback album, and turn the volume up.

06-27-2018, 09:56 AM
Newb
Join Date: May 2016
Posts: 19
Total Cats: -1

---

06-27-2018, 11:08 AM
Boost Czar

Join Date: May 2005
Location: Chantilly, VA
Posts: 76,361
Total Cats: 2,294

---
Originally Posted by
guacamole
Yeah so just tried removing the muffler last night to see what it sounded like... no thanks lol. Too loud and doesn't sound good either. I'd consider swapping the muffler but don't know anything that would mate up to the yonaka mid pipe, so thought resonator delete would be the best route...
no. leave it alone. enjoy the damn car.

06-28-2018, 07:04 AM
Moderator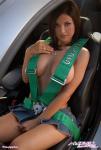 Join Date: Nov 2008
Location: Tampa, Florida
Posts: 18,879
Total Cats: 2,355

---
Intake noise drowns out exhaust
Doesn't want louder exhaust


Make a cold air intake by running hose/pipes from compressor inlet to front side of radiator somewhere and mount filter there. Piping will quiet the noise some and location will make it more difficult to hear from the cabin.

Also, some cone type filters come with enclosures that allow a hose to be mounted on them.

06-28-2018, 10:35 PM
Junior Member

Join Date: Nov 2016
Location: Columbia, MO
Posts: 137
Total Cats: 10

---
Sounds like you want an all motor setup. With my 3in exhaust MKTurbo setup, once boost comes on there is no more hearing the exhaust really. I can hear it at lower rpm's, what's so bad about hearing the turbo over the exhaust? What Six and Goingnowherefast said are about you're only two options. Though like I said, 3in isn't much improvement in the sound department imo
Thread
Thread Starter
Forum
Replies
Last Post
Miata parts for sale/trade
Miata parts for sale/trade
Miata parts for sale/trade