DIY turbo kit on a budget PLZ Help!

02-23-2019, 01:53 AM
Newb
Join Date: Feb 2019
Posts: 1
Total Cats: -1

DIY turbo kit on a budget PLZ Help!
---
Hey all, Im new here and wanted to get some advice on planning my turbo kit for my miata. My miata is a 1994 1.8 with 133k miles. I use this car as a daily and I need it to stay reliable after the turbo kit.
My power goal is around 200 hp, or a little more.

My budget is at about $3,000 but it would be very helpful to save where ever I could.

I am looking for help on what I will need specifically for the turbo kit and where I can begin to piece parts from as affordably as possible! I am a college student so saving money is important where I can.
Im a noob so any help is appreciated!

02-23-2019, 06:16 AM
Moderator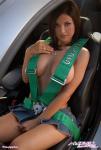 Join Date: Nov 2008
Location: Tampa, Florida
Posts: 18,879
Total Cats: 2,355

---
That's not going to be quite enough money. The best bargain kit for cheapskates is the MK Turbo kit, but you will still need $1000+ for a used Megasquirt and wideband. And a clutch. And injectors. And a second car because it never just works without difficulty.

02-23-2019, 06:45 AM
Elite Member
Join Date: Feb 2013
Location: Staunton, Va
Posts: 3,157
Total Cats: 382

---
This this this. Can you ride a bike for any given amount of time. Instead of a car? If yes, then maybe this is feasible. But dont kid yourself. Your first DIY turbo will not be reliable inside of the first month or so. If you're lucky

02-23-2019, 01:50 PM

---
It can be done for $3k... But you'll have to keep hunting for deals. I picked up a MS2 used for $350. I got a new FM clutch and a resurfaced flywheel. It can be done but it will be tight.

I also highly recommend a backup mode of transportation. I have access to a full shop and I doubt I can knock it out in a weekend.

02-24-2019, 12:29 PM
Junior Member
Join Date: Jun 2018
Posts: 81
Total Cats: -2

---
As someone who is a few steps ahead of where you are now (I have compiled all my parts, but nothing has been installed), I can say It sounds like you need to do a bit more research on your own. The build thread section is extremely valuable for research for this because it allows you to to see what has worked for other people and sometimes even what builds have cost. Also, use the pre-built kits as guides. These companies have had success selling kits because they work. The FM kit instructions are available on their website, and are a good reference for process.

I agree with what other posters have said. Until you get your car properly sorted, you need a backup daily. I am planning to have my Miata down for up to 2 months while I do my build.

Lastly, one thing I have learned about this forum is that no here one is going to hold your hand. Research first and ask specific, well thought out questions second.

02-24-2019, 12:47 PM
Senior Member
Join Date: Oct 2013
Location: NorthWest NJ
Posts: 1,447
Total Cats: 70

---
Read more. Lots more. Don't start with a turbo, get an ECU.

This is one of those questions where, yes, it can be totally done, but if you are asking this question you have a lot of learning, research, and experiance to do before you can do it.

02-25-2019, 11:56 PM
Newb
Join Date: Sep 2018
Posts: 18
Total Cats: -17

---
Thread
Thread Starter
Forum
Replies
Last Post