more smoking (turbo?) issues

09-18-2018, 01:49 PM
Newb
Join Date: Aug 2018
Location: Ventura CA
Posts: 23
Total Cats: -31

more smoking (turbo?) issues
---
Recently I had an issue with over oiling my turbo due to no restrictor, causing the oil to burn off on the compressor side of the CHRA . This was solved about a 3 weeks ago, and gave very good results as far as solving the smoking turbo CHRA/compressor.... UNTIL recently.

After a few canyon runs and a couple dozen of hairpin turns (maybe an occasional parking lot donut) I realized that it seems something is producing smoke from the same area of the turbo. This smoke is produced when in the middle of acceleration on a right turn/sweep/slide. Basically whenever the momentum of the car and gravity are pushing the liquids up against the drivers side of the car enough, is when I see smoke.

Any guesses / suggestions?


09-26-2018, 02:16 PM
Moderator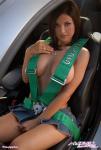 Join Date: Nov 2008
Location: Tampa, Florida
Posts: 18,902
Total Cats: 2,362

---

09-26-2018, 02:25 PM
Newb
Join Date: Aug 2018
Location: Ventura CA
Posts: 23
Total Cats: -31

---
Originally Posted by
sixshooter
Somewhere it won't drip on the exhaust manifold in right hand turns. A catch can would work. At higher RPMs and with the addition of boost it will probably carry a lot of oil still. Check out the "Definitive How Do I Catch Can" thread (or something like that). It is currently active so it should appear under new posts.
I really appreciate your help, both on this issue and my few others.
If I wanted to post some data logs and have some peeps give me input as to what to try/what's going on with my tune, where would I do so?

09-26-2018, 02:54 PM
Junior Member

Join Date: Apr 2016
Location: Houston, TX
Posts: 256
Total Cats: 21

---

09-27-2018, 12:01 AM
Senior Member
Join Date: Mar 2014
Location: Jacksonville, FL
Posts: 1,195
Total Cats: 145

---
I had the same issue, breather=oil spraying on turbo manifold.

solved it by installing a dual port VTA catch can and plumbed both sides of valve cover ports into can and capped off intake manifold nipple.
Thread
Thread Starter
Forum
Replies
Last Post
Current Events, News, Politics