1995 Miata, stock 99 engine, 5spd, 4:10: 14.775 @ 91.88mph

10-06-2016, 11:37 AM
Elite Member
Join Date: Jan 2005
Location: Atlanta
Posts: 7,442
Total Cats: 343

1995 Miata, stock 99 engine, 5spd, 4:10: 14.775 @ 91.88mph
---
Unfortunately tuning amounted to two full throttle runs in the parking lot. I suspect lambda @ .90-.95. Ran on Nitto NT01s 205-50-15. Weight is 1660lbs with 65/35 F/R bias, so launching was difficult. This is the second time I've ever drag raced (last time was over ten years ago in Viper), but I have to admit, I'm hooked. It has a different set of challenges and it's not so incredibly time consuming and exhausting to run an event.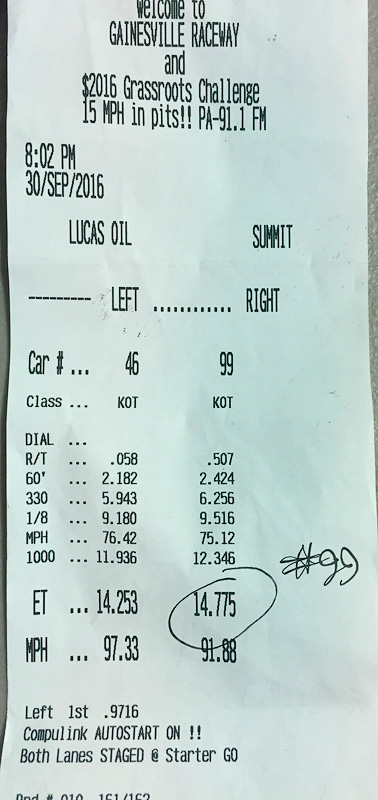 10-07-2016, 09:44 AM
Elite Member
Join Date: Jan 2005
Location: Atlanta
Posts: 7,442
Total Cats: 343

---
No doubt. It had been over ten years since I autocrossed and I showed significant improvement on every run.
Miata
at $200 cost. We made it about half way to our "rat rod Miata" design by the event after a series of KOSH*. We'll build a new roll bar arrangement for next year that will likely integrate into a pickup bed. Also going to attempt adding another subframe in front of the existing to move the front wheels (and all attachments) forward while retaining the existing subframe for engine support and structure. That will make a significant change in the f/r weight bias. Full throttle in first and second resulted in spinning both rears on the autocross.
I'd planned to contact you regarding "Miata drag racing" but as the event neared, our focus moved to just making the event. The car and owner are in Tampa, and the plan is to get it out at both autocross events and the drag strip. I bet it would be a simple task to get a group of nearby MT.netters to the drag strip.
Here it is lined up next to an SR20DET Opel GT that ran low 14s.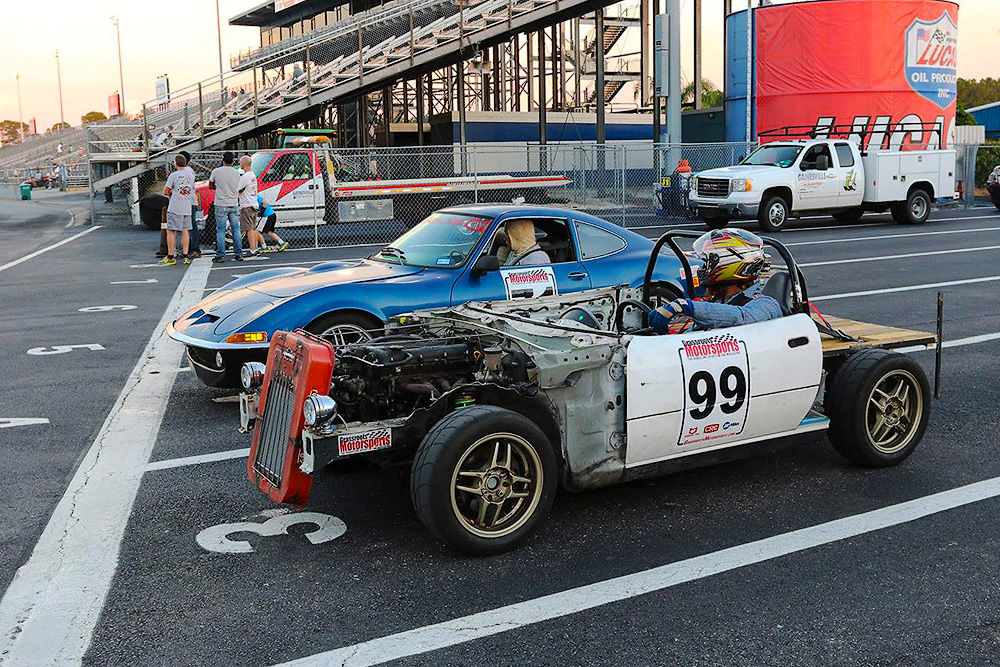 *King Of **** Happens

10-07-2016, 02:51 PM
Elite Member
Join Date: Jan 2005
Location: Atlanta
Posts: 7,442
Total Cats: 343

---
You know it.
We actually had turbo stuffs on the shelf and a 150 shot wet nitrous kit. Just never got to it. Didn't have any gauges either- fortunately the engine wasn't muffled by an exhaust and hood.


10-09-2016, 10:55 AM
Elite Member
Join Date: Jan 2005
Location: Atlanta
Posts: 7,442
Total Cats: 343

---
@Efini - so much of these cars are built on "being in the right place at the right time". The car I drove had a free Miata torsen that the "seller" was clearing out of his garage for space because it was an "Rx-7 diff". While we were there, the owner picked up an entire Miata rear subframe with Ford rear, hubs and axles- ready to bolt up to the Miata for $50 from the GA Tech crew.
@sonofthehill - yes I know, such a delicate balance of getting the car rolling with the so little weight on the rear tires, and the stiff sidewalls.
Thread
Thread Starter
Forum
Replies
Last Post