12v source for heavy draw Spal fan

09-16-2018, 11:56 AM
Junior Member
Join Date: Aug 2010
Posts: 218
Total Cats: 20

12v source for heavy draw Spal fan
---
Upgrading my Spal fan to another with much more amp draw. looking to relay the fan the right way this time. I would like to run some heavy gauge wire from the battery to the relay, but I figure it might be easier to jump someplace from the engine bay . Any thoughts on how I can safely do this without affecting my ECU? Fuse-box/Alt?
Other:
- The fan will draw ~30A during start up
-
The fan
- Alternator is 100A
- Planning to use the stock fan pigtail +12v input as trigger
- Relay/harness is pre-built from Spal with some hefty wiring (hopefully)

09-16-2018, 01:37 PM
Junior Member
Join Date: Aug 2017
Location: Norwich NY
Posts: 53
Total Cats: 13

---
When I wired in a relay setup for my headlights, I tapped into the main bus of the fuse box on the passenger side of the engine bay. Pull the battery lead off, then undo the fuse box and lift it up. There is a red threaded stud in the middle of the fuse box which is the positive bus. Run a lug onto that and happy days.

09-16-2018, 02:10 PM
Moderator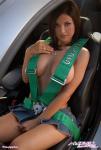 Join Date: Nov 2008
Location: Tampa, Florida
Posts: 17,798
Total Cats: 2,065

---
I made sure mine didn't have anything to do with the main fuse box so it would not further tax the main relay. I ran a secondary wire from the battery positive to the alternator positive post previously. Then I ran another wire from the alternator positive post to a fuse and then my new fan relay for My Spal.
Thread
Thread Starter
Forum
Replies
Last Post
Miata parts for sale/trade
Miata parts for sale/trade