Ignition advance low compression vs. factory

05-10-2019, 10:41 PM
Newb
Join Date: Jun 2016
Location: Detroit
Posts: 17
Total Cats: 0

Ignition advance low compression vs. factory
---
I was hunting through the forums for a good amount of time trying to find a thread with this subject, and to my surprise I couldn't find one. I'm pretty bad at finding threads, so if there is one already please point me to it.
I'm just interested in how much the optimal ignition advance for lower compression pistons (8.6:1) differ from motors with a more "normal" (9.4:1) ratio. I understand the dish on the lower compression piston head not only lowers the cylinder pressure, thus causing the flame front to travel slower, but it also puts a greater distance between the ignition spark and the piston surface. To adjust for these things, ignition timing should be more advanced, but what I don't know is how much more advanced it must be.
I'm running low compression pistons in my turbo'd 1990 1.6, and I'm tuning it on the street, so naturally I'm inclined to err on the conservative and safe side, which I'm fine with. I just want to know if I'm missing out on some efficiency. I set up the table based on some I've seen online, and set it to have a linear-ish decline into higher boosts, but the power gains from 0-7 psi feel a lot greater than the gains between 10-15. I feel inclined to pick it up a little more, but I'd like some second and third opinions before I do (or don't do) anything.

05-15-2019, 02:34 AM
Supporting Vendor


Join Date: Jun 2006
Location: Athens, Greece
Posts: 5,593
Total Cats: 244

---
On 100RON pump gas, I'm running ~20* at 220kpa and 16* at 290kPa. Figures at max revs (7500rpm).
__________________
MS Labs: Plug and Play Megasquirt ECUs for
ANY
90-05 Miata (NA, NB1, NB2 w/VVT, MSM), including basemaps to get you started ASAP.
PM me
or email or details.
For support on MS Labs ECUs: Please email, be sure to include the unit's serial number and include a datalog and your current map.

05-15-2019, 07:50 AM
Moderator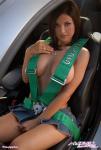 Join Date: Nov 2008
Location: Tampa, Florida
Posts: 19,294
Total Cats: 2,434

---
Generally speaking, I believe you can get about two degrees more timing with 8.6 vs. 9.4 but highly recommend electronic det cans for tuning boost above 10psi. There are so many variables even in the same generation of engine once they have been rebuilt or if they have any miles on them.

05-15-2019, 09:10 AM
Design Engineer

Join Date: Jan 2013
Location: Seneca, SC
Posts: 3,607
Total Cats: 481

---
Another general question that has been on my mind for some time. We know that a larger turbo (or any EFR) makes much more power for a given boost. Wouldn't that mean that the advance a some given boost would need to be lower than the same boost level with a small turbo.

In other words, would not the power level be more the determining factor than the MAP? More Power being due to more Air and Fuel?

Or is that too simplistic?

05-15-2019, 11:54 AM
Moderator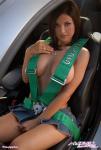 Join Date: Nov 2008
Location: Tampa, Florida
Posts: 19,294
Total Cats: 2,434

---
A larger turbo at the same horsepower will generally create less Heat and has a much less restrictive turbine housing Etc. I haven't thought too much about how that would affect timing at a particular pressure.

05-15-2019, 12:26 PM
Senior Member
Join Date: May 2017
Posts: 578
Total Cats: -27

---

05-15-2019, 12:54 PM
Moderator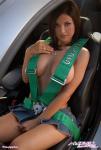 Join Date: Nov 2008
Location: Tampa, Florida
Posts: 19,294
Total Cats: 2,434

---
Boost is a measure of backpressure through the engine and therefore inefficiency. Lowering the Restriction of the turbine housing and turbine wheel will usually reduce that back pressure.
Thread
Thread Starter
Forum
Replies
Last Post