45 kPa at WOT on 1999 w M62... But not always.

10-27-2018, 05:02 AM
Newb
Join Date: Jun 2017
Location: Pittsburgh
Posts: 22
Total Cats: 0
45 kPa at WOT on 1999 w M62... But not always.
---
Hi there!
A colleague of mine acquired a 99. He's gone the S/C route and! Blew it. So now he has a junkyard motor. Rebuilt, forged, oil pump, injectors, clutch, coils, rad, wrap/headers, valvetrain... I sold him on the bang-buck I got from my MS3X DIY kit, and I'm helping him squash bugs. Stopped by my cubicle talking about how it just dies hard, at 5k. I took a peak at his tune, he had a programmable output for VTCS - that he doesn't have. Who knows what that was doing. Checking his jumpers/pinouts and upgrading firmware later. I tell him disable that. Next day, its doing much better but "sometimes goes full gutless." Sent me a log, and after panicking that it showed pulls at 17+ afr, I go to his place. Had the wrong Innovate calibration loaded. Phew. Car looks pretty damn nice, not even slightly clapped out. AC + PS + SC. Now I'm interested!
He runs a
single TB Hotside M62 w/ Mishimoto IC, Skunk2 TB and IM on MSPNP2.
Belt looks great. He recently had his SC rebuilt, yet it maxes out at 115 kPa. Okay, so his bypass valve probably needs to be adjusted? I couldn't get a visual on the actuator positioning. Blipping, it actuates nice. His overrun/idle vacuum is good/no "leaks." We'll worry about more boost later unless someone here can prove me wrong: it screams like a champ - feels like a '3psi Miata' should. I don't
think
the S/C plays any part in this 'air blockage' I'm more worried about.
Logs and tune attached - yes I'm working on his maps. He also has that Wells 1.6 TPS. It shows no signs of hackjob wiring. Inputs are smooth, SIG_GND doesn't appear to hit normal GND, it's mounted nice and tight, and generally speaking I haven't seen any inaccurate readings. So does this sometimes turn into a
Pedal Position Sensor...?
THE ISSUE:
Every hour or so while tuning from shotgun, he notes low power.
I see MAP is too low. 25%+ TPS is typically > 85 kPa. Not now.
I watch him floor it. TPS = 100. I recalibrated it before we left.
Slowly accelerate. MAP begins to
DROP.
No belt squeals, no rubber smell, AFR "as expected" w/ the values (+TPSDOT AE).
Supercharger whine sounds normal. No electrical bug symptoms.
TPS is accurate - we know his foot is to the floor.
MAP is accurate - the MAP+RPM is repeatable and generally as-expected.
AFR is accurate - very consistent, sensor is new but broken in, genuine innovate.
The ONLY thing I've noticed is this happens when he eases onto it.
It hasn't happened
(yet)
when he mashes on the pedal from 0 TPS.
Can I get a sanity check?
Is his throttle valve rotating on the shaft?
Looked fine on a scope, behaves flawlessly 98% of the time.
A S/C that roars and moves air, but also doesnt fully seal the BPV, can in no way cause THAT much restriction? At random?
Should I be scrutinizing his TB + TPS or or something else first? GoPro on the intake/actuation area next time I ride?
Jump to the very end of the logs.
TLDR + Download-free PNGs!
IMGUR [ONE] [TWO] [THREE]
(~2 PSI in a) Mild built 1999 w/ M62 SC. Not really any 'no-name' parts.
Intermittently starving for air. Yet to find pattern for recreating. AFRs don't lie.
Everything else is OK except for the tune/tables needing some TLC,
And what I suspect is a not-fully-closing bypass valve.

The Eaton has pmuch nothing to do with this huge, intermittent restriction, yeah?
Has anyone ever heard of (non OEM lol) throttle plates kinda-sorta decoupling or should I look elsewhere?
thanks

10-27-2018, 07:39 AM
Moderator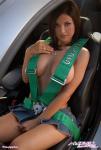 Join Date: Nov 2008
Location: Tampa, Florida
Posts: 18,917
Total Cats: 2,364

---
Pull the belt off the sc and stick the air filter on the pipe and try driving it naturally aspirated while logging. See what difference it makes eliminating some variables.

I'd like to see the cam timing double checked.

10-27-2018, 08:48 PM
Newb
Join Date: Jun 2017
Location: Pittsburgh
Posts: 22
Total Cats: 0

---
Cam timing? Can't say I follow the logic.

Update: I now have a theory. Going to have him honker the **** outta the belt and get a deflection ... tester, thing.

I think his belt is slipping even though it gives absolutely no signs of such.

In one log this happened when he blipped/downshifted. At another point, it returned to normal working order when he upshifted (RPM drop).

I believe it's slipping and at WOT the BPV gets into a state of hysteresis/equilibrium:

air flowing through the BPV pressurizing the IM (trying to close the BPV)
and the BPV closing and vacuuming the IM (trying to open the BPV).

This state of equilibrium will somewhat give a consistent amount of airflow. So, the vacuum increases as RPMs increase.

If this isn't it, I'm calling a priest.

10-30-2018, 09:13 PM
Junior Member
Join Date: May 2007
Location: Toronto Area, Ontario
Posts: 167
Total Cats: 41

---
Well, you can always wire the bypass closed, which will help you rule out that as a contributor.

Also, I have seen a rag stuck in the intake (between the throttle body and the air filter) which caused a somewhat similar problem.

11-04-2018, 01:26 AM
Newb
Join Date: Jun 2017
Location: Pittsburgh
Posts: 22
Total Cats: 0

---
Rag in the intake. Haha. I mean, it sure looks like it. -_-
Caught another stall at the *** end of "after tuning parking lot." Had him slap the **it out of the throttle because why not. Didn't do much.
Found his brake booster vac line pretty much dangling. Tightened that down, gave us maybe +1kPa. He's got the belt on tight. It isn't slipping. My theory above is wrong. You can hear the charger whinning at the correct pitch that it should be whinning at for the given RPM. I took some had-in-his-trunk pliers to the adjustment screw on the bypass valve 'stopper.' No change.
Looked into and tested his idle valve setup. Dummy TB > IAC > Check valve > Wide hose > Pre-TB on the hotside. Did vacuum tests coasting down a hill at 100% and 0% in test mode, and 0% and 100% in WOT. Gave him more vacuum (vs closed loop 42% for a 1200rpm idle) and never caused (even) lower boost. So his IAC and check valve are doing their thing.
Pulled a vac line off the BPV Actuator, and saw a curious lack of MAP change (107 kPa disconnected vs 114 kPa connected). We hear hissing and I want to know if it's the BPV leaking internally, so we're going to ghetto-dyno it on jackstands in 5th gear with the ebrake while I shove my head in the bay mid next week. I'll let you know how much of my weave I lose.

11-05-2018, 01:55 PM
Newb
Join Date: Jun 2017
Location: Pittsburgh
Posts: 22
Total Cats: 0

---
These two posts go hand in hand. Garage space is non existent, I'm here, his shop is 50+ miles out. As is my legal driving privilege. Going to jackstand the *** and use the ebrake to listen for/spray clamps for boost leaks for short periods. It all looks OK, but that doesn't mean a thing. There's a hissing sound, I want to know where it is. Doesn't solve the vac issue but whatever. He's pretty much offering a full kit to me for 800, and I'm on the fence.
+1 for the ziptie shut. Need to take the actuator bracket off and get at that valve directly. In time. Or not, if he's going turbo.
Thread
Thread Starter
Forum
Replies
Last Post