Car has no Spark 1993 MX-5 GER Model

04-11-2019, 05:43 AM
Newb
Join Date: Apr 2019
Posts: 6
Total Cats: 0

Car has no Spark 1993 MX-5 GER Model
---
Hey Guys,

this is my first Post here, i hope im in the right section to post this and hope somebody can help me.
I have a 1993 MX-5, german model, 1.6l engine. I restored it since October and while the engine ran pretty good all the time, sometimes when i gave it a hit on the throttle first the rpms would fall down, then go up so something might've been fishy all the time. But now sadly i was finished with everything, wanted to bring the car to german technical inspection you have to get when you want to register the car again and it didnt start anymore. Fuel pump runs normal and with a stethoscope i can hear fuel in the fuel rail and able to smell it when cranking with Spark Plugs out. I didnt have a spark on all four cylinders. after measuring singal at the plug in front of the coils with an oscilloscope i came to the conclusion it must be the coils that are faulty. replaced them, car ran again and idled well until i hit the throttle again. it died and didnt have spark anymore. Two weeks later it ran again and the same thing happened. now i tested all wires of the CAS, the igniter, the coils for continuity and they all were good. also i replaced the igniter but im clueless as to what my problem could be, i ordered a good in shape CAS but it seems to be that the 1.6 CAS is different over the model years, different internals and it wouldnt fit after 30 minutes of trying hard. the only thing left are the CAS and the ECU if im not wrong right?

any ideas to what try to do first ?

i already cleaned all the grounds in the engine bay too and put them back on snug

Best regards

04-11-2019, 09:04 AM
Moderator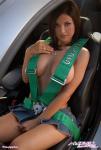 Join Date: Nov 2008
Location: Tampa, Florida
Posts: 19,270
Total Cats: 2,432

---
Welcome to the forum. Gruess Gott! (my keyboard has no umlaut)

The CAS is a common failure point. So are the coils, but having them fail so quickly after replacing seems odd. Check all of the grounds between the body and the engine to make sure they have a good connection before proceeding.

04-12-2019, 06:13 AM
Newb
Join Date: Apr 2019
Posts: 6
Total Cats: 0

---
Alright Sixshooter i will try replacing the CAS with another one i recently bought but couldnt fit yet, the grounds to check are two on the rear right of the engine and the thick ground cable on the left side of the engine right? maybe it helps to say i had the whole dash out and almost everything under it for restoring , but the grounds on the inside arent for the engine electronics right? if they are i would have to check for them again..

also thank you for this warm welcoming :P

04-12-2019, 08:18 AM
Moderator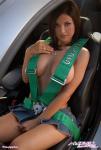 Join Date: Nov 2008
Location: Tampa, Florida
Posts: 19,270
Total Cats: 2,432

---
Yes, the grounds on the back of the engine to the body. The ones from the electrical harness to the front of engine near the throttle body, the ones under the dash, and the big one from the battery to the PPF in front of the rear differential.

04-14-2019, 05:59 AM
Newb
Join Date: Apr 2019
Posts: 6
Total Cats: 0

---
okay so i managed to get the other cas i have in by removing the cap and my valve cover. after that it did Start, instantly called my boss and co workers( we are all car mechatronics as its called nowadays in europe and work at a Toyota dealership- im the apprentice for now) and they revved a few times, it didnt die, just choke really badly and one time my boss opened the throttle pretty wide and at around 3500-4000rpm the engine would behave as its hitting the rev limiter, bumping there and not going up , shortly after that it died and guess what. i dont have a spark again.. literally no idea im now at the point where i replaced the following

CAS, Igniter, Ignition Coils

only the ECU is still the original one... B46F-18-881A

i already have someone with a big parts pile that would lend me an intact ecu to try out if it changes something.

i also noticed while restoring the interior in the middle console there was a immobilzer .. or at least what has been left of it, the cables were cut just below the console, one red wire one black. i dont think i saw other red or black wires while the dashboard,carpet,heater core housing and everything else behind there were out but maybe it is that too..

im just trying to give out as much information as possible to maybe give you an idea, i know its difficult to diagnose something in person from across the big pond but i hope im not the first one to encounter this Problem
Thread
Thread Starter
Forum
Replies
Last Post