Intake Manifold Gasket

07-11-2011, 11:06 AM
Elite Member
Join Date: Aug 2007
Location: Fort Myers, FL
Posts: 2,896
Total Cats: 171

Intake Manifold Gasket
---
Since we added a RSX to the garage recently I've been messing with it a good bit. A ton of people do a Hondata intake manifold gasket to reduce intake temps. It looks like Hondata offers them for a miata but I've never heard of anyone doing it.
http://www.hondata.com/heatshieldgasket.html
I did some primative before and after tests with the RSX and the gasket showed some significant drops in temperature on the manifold itself (no idea how that translates to the air inside, but it has to help). Here's the writeup I did on clubrsx:
I took some before and after temperature readings from the intake manifold to see how the gasket would affect manifold temps. All tests were done mid-day in south FL, similarly hot as hell for all 4 tests (2 before, 2 after) on a type S with only raceheader, no other mods, after 15 minutes of spirited driving.
Temperatures were taken from 3 points that were marked on the manifold and taken with a infra-red temperature gun to prevent any skewing of the experiment. Sample points are seen below: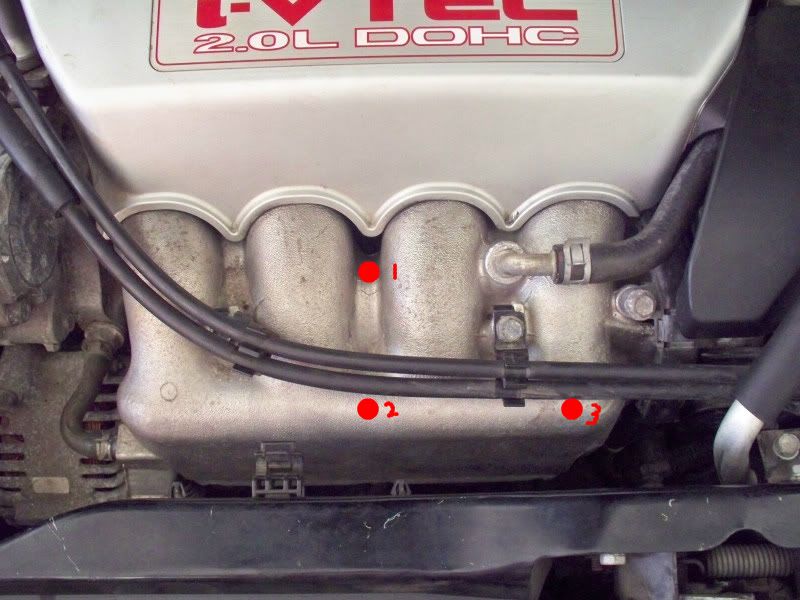 Before temperatures:
Point 1: 157, 159
Point 2: 138, 140
Point 3: 137, 137
After temperatures:
Point 1: 144, 146
Point 2: 132, 133
Point 3: 131, 131
Temperatures close to the head were down 11-13 degrees. Farther away from the manifold temperatures are less drastic (as expected), 6-7 degrees. The test made me curious what kind of difference would be seen where the manifold mates to the head, I'd expect an even wider margin in the results there.
I think I'm going to do one on the miata as well. It doesn't look like the miata manifold has nearly as much surface area as the K20 so maybe it won't make much difference. If nothing else it will move the throttle body/charge pipes out 1/8" and give a little more room for the radiator hose. Just curious if anyone else has done one before?

07-11-2011, 11:11 AM
Boost Czar

Join Date: May 2005
Location: Chantilly, VA
Posts: 75,872
Total Cats: 2,237

---
This test suggests that the head transfers a small percentage (~5-10%) of heat to the IM. 90% of it's heat is logically recieved through radiation within the engine bay. So, eventually, all the temps will still equalize to the temperature of the engine bay.

however, the heat that was being shed out of the head into the IM is now going to have to transfer into the oil and cooling system...


If you could measure a 10% drop in intake air temps through use of the gasket, I'd be slightly impressed.

07-11-2011, 11:43 AM
NB/VVT Connoisseur

Join Date: Aug 2008
Location: Key West
Posts: 6,135
Total Cats: 253

---
I have one of those. My OEM one tore when I was swapping intake manifolds, so I bought the phenolic and a OEM. Ended up using the phenolic for the reasons that is is thicker, much stronger and will certainly be reusable (I hope).

I never recorded temps.

07-11-2011, 12:35 PM
Elite Member
Join Date: Aug 2007
Location: Fort Myers, FL
Posts: 2,896
Total Cats: 171
Thread
Thread Starter
Forum
Replies
Last Post
Miata parts for sale/trade