No spark, no dash tach, ran fine before

10-17-2009, 05:12 PM
Newb
Join Date: Apr 2008
Location: Arlington, TX
Posts: 43
Total Cats: 0
No spark, no dash tach, ran fine before
---
Hello all,
I hate making posts like this...I've searched to no end. A lot of posts are similar but not close enough to help.
I have a 96 1.8 5sp with a Haltech E6K. The car has been running fine for weeks now. (ran for years before that as-is...until the oil pump relief valve stuck). Regardless nothing else has changed. I drove it home from work on Tuesday, no problems at all. Then on Wednesday morning I decided to reconnect my meth injection solenoid under the hood...The ONLY thing I had to do was reconnect the solenoid 12v+ and ground it to the chassis. Nothing else was messed with.
After reconnecting the solenoid, I clean up and decide to go test the system. (it too was hooked up before... I took if off when I was cleaning up the engine bay...so its not a 'new' addition really) Needless to say, the car wont start.
I get fuel, and I hear all of the normal clicks and noises I would normally hear when turning the key on. I just get no spark. I've checked all 4 sparkplug cables (with a grounded spark plug) and get nothing. I get 12v to both coils, and the signal wires from the haltech are still perfectly soldered (had sealing shrink wrap on them as well). The CAS also gets voltage and will trigger fuel when I plug it back in. The Haltech software shows an RPM signal, which also leads me to believe the CAS is talking.
I also tried removing the battery connector and draining the system to reset everything.
The main engine relay and 'kick panel fuse' are both ok...
I am at the end of my rope... and dont know how else I can test or diagnose on this thing. I dont know why the coils would just die (especially both of them?) over night...
Anything else? I dont have a close person to 'borrow' coils or other parts to help diagnose...and I dont know what else I can check....
Anyone? It's worth a fat-*** steak dinner if someone can help me get my baby goin' again.

Thanks,
Scott

10-17-2009, 05:39 PM
Newb
Join Date: Apr 2008
Location: Arlington, TX
Posts: 43
Total Cats: 0

---
poop...

Isnt the ignitor integrated into the coil packs? (thats what the manual leads me to believe)

If not, where is the ignitor on this crazy thing?? (and any idea what would have popped it? I've heard of fried coils but I hadnt seen any common problems that would cause the ignitor to be fooked?)

Thanks for the fast reply tho... I'm eyeing this xanax expecting to check out if I cant sort this car. Haha...

10-17-2009, 05:43 PM
Senior Member
Join Date: Sep 2007
Posts: 1,121
Total Cats: 72

---
ignitor is on the passenger side, looks like
http://www.boostedmiata.com/FAQ/cops..._explained.jpg
if you have a multimeter there's a post on miata.net with the correct resistances you should have, so you can see if yours is fucked before you go drop $50 on another one.
having blown up two of them, I'm pretty certain that's what it is

10-17-2009, 06:03 PM
Newb
Join Date: Apr 2008
Location: Arlington, TX
Posts: 43
Total Cats: 0

---
Thanks again...

I was also researching pulling my charcoal canister mess... and in THAT post they talk about the ignitor, and talk about it being next to the evap connector....so I ran back out there because I was using that 2-bolt connector as a ground for my meth solenoid! lol

BUT... my ignitor doesnt look like that at all. I have a little OEM bracket attached to those 2 studs, and the thing that attaches to it has a (4 pin I think) connector connected to it, and a vacuum line that connects to the back of the intake mani.

I wonder if its a 1996 specific thing? The pic you linked is on a 1.6 I think.

Shrug.

THANKS for all the help so far though... keep em coming! :-)

10-17-2009, 08:42 PM
Newb
Join Date: Apr 2008
Location: Arlington, TX
Posts: 43
Total Cats: 0

---
Just for refs....
Here is the same panel on my car. The missing space is where the charcoal canister / evap thing was. It was running fine for a couple of weeks after that was unplugged and removed though....
Is the item pictured the ignitor?? It doesnt appear to be (wtf would an ignitor have a vac reference?
) If it isnt... where else on a '96 would the ignitor be located? My books (all 3 of them) suck for photo documentation.
Thanks guys.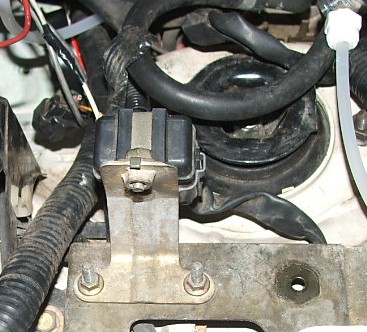 10-17-2009, 10:44 PM
Newb
Join Date: Apr 2008
Location: Arlington, TX
Posts: 43
Total Cats: 0

---
Actually.. I just looked at the autozone site...and they show a pic of the ignition control module. So... I know the part I pictured isnt the igniter....

Sooooo... long story short. Where in 9 hells is the farkin igniter on a 96? Its not on that little bracket on top of the passenger side wheel well.

Heppp! :-)

10-18-2009, 11:43 PM
Newb
Join Date: Apr 2008
Location: Arlington, TX
Posts: 43
Total Cats: 0

---
Thanks Paul...I appreciate the answer. Now I just need to find another local Miata guy with some spares, parts, or the willingness to help me diagnose some of the hard parts so I dont buy unnecessarily.

Thanks!! (any other ideas are still welcome though!!)

-scott

10-19-2009, 04:48 PM
Newb
Join Date: Apr 2008
Location: Arlington, TX
Posts: 43
Total Cats: 0

---
GASP!!

Im only on the other 2 forums! I didnt know there was a dfwmiata.com! (you'll have to excuse me, I'm an ex-subaru guy)

I'll jump on there and register ASAP...thanks a LOT for the infos. There is a guy down the street from me actually that has a turbo miata project, but I lost his number. I'm sure the forum will help.

Thanks again...
_Scott
Thread
Thread Starter
Forum
Replies
Last Post
Suspension, Brakes, Drivetrain
Miata parts for sale/trade