SalvageWon + V8 + Turbo = ?

11-10-2018, 09:01 PM
Newb
Join Date: Oct 2018
Posts: 1
Total Cats: 0

SalvageWon + V8 + Turbo = ?
---
Hello everyone. I'm new to the Miata community and have found it to be a very welcoming and thoughtful group. I bought a 1996 Miata a few months ago and have been thinking about what to do with it. Basically I want to go super fast and maintain balance and handling on back roads and have some fun track days. So I had the idea of putting on a SalvageWon Eliminator kit, plus installing a V8 and a turbo. I have seen one of those three independently, but never all three on one car. Each option seems to make a Miata amazing, but all three seems like it would be outrageously awesome.

Based on what I have read, I think the final product would be in 1600 pound range, and could have 400-450hp. Based on the 0-60 calculators, they estimate 2.1-2.3 seconds for the 0-60 time (assuming perfect conditions).

Pricing puts the project at roughly $20,000. I estimate 5k for the V8 + 5k for the turbo kit + 5k for the SalvageWon kit + 5k in other stuff I haven't even thought of yet.

Have I missed some examples that combine these three elements? Am I way off on my price or final weight estimates or HP output? Is this idea insane?

What does everyone think?

11-11-2018, 07:19 AM
Moderator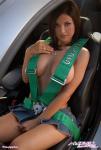 Join Date: Nov 2008
Location: Tampa, Florida
Posts: 18,901
Total Cats: 2,360

---
Sounds like a "what if" thread. We get a lot of these. Post pictures of something else you have actually finished that is equal in effort and skill to this project. Otherwise this will appear to be a mental ************ thread, and nobody wants to help with that.
Thread
Thread Starter
Forum
Replies
Last Post
Miata parts for sale/trade