Progressive Snap shot (driving style tracking device)

07-26-2012, 03:58 PM
Boost Pope

Join Date: Sep 2005
Location: Chicago. (The non-murder part.)
Posts: 29,154
Total Cats: 2,867

07-26-2012, 07:14 PM
Moderator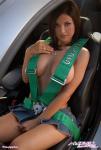 Join Date: Nov 2008
Location: Tampa, Florida
Posts: 19,047
Total Cats: 2,396

---
Local news did an expose' on these devices and yes, they do use the VSS and not GPS. One great tool to use would be one of the devices used to recalibrate the VSS signal when you've done a gear ratio change. You could trick them into thinking you were doing 40mph instead of 80mph during your commute and that you only accelerate or brake half as quickly as you really do. For every invasive technology there needs to be a workaround.

07-26-2012, 07:30 PM
Elite Member
Join Date: Dec 2010
Location: SoCal
Posts: 4,150
Total Cats: 19

07-26-2012, 11:47 PM
Boost Pope

Join Date: Sep 2005
Location: Chicago. (The non-murder part.)
Posts: 29,154
Total Cats: 2,867

---
Given that it represents nearly 10 seconds to stop from 65 (assuming linear deceleration), I don't think I would be.
The standard for normal, safe braking of a passanger car in the US seems to be 15 fps/sec, a number which I've found in multiple sources, including the NHTSA. A few excerpts from
this paper
at the University of Pennsylvania engineering department, which is targeted at comparing real-world braking performance to car-makers published specifications:
Highway traffic and safety engineers have some general guidelines they have developed over the years and hold now as standards. As an example, if a street surface is dry, the average driver can safely decelerate an automobile or light truck with reasonably good tires at the rate of about 15 feet per second (fps). That is, a driver can slow down at this rate without anticipated probability that control of the vehicle will be lost in the process.

The measure of velocity is distance divided by time (fps), stated as feet per second. The measure of acceleration (or deceleration in this case) is feet per second per second. That assumes a reasonably good co-efficient of friction of about .75; better is .8 or higher while conditions or tire quality might yield a worse factor of .7 or lower.

(...)

By increasing braking skills, drivers can significantly reduce both the time it takes to stop and the distance taken to stop a vehicle. Under closed course conditions, professional drivers frequently achieve 1g deceleration (32 fpsps) or better. A reasonably skilled driver could easily get deceleration rates in excess of 20 fpsps without loss of control. It is very possible and probable that with some effort, the driver that attempts to be aware of braking safety procedures and practices can and should get much better braking (safely) than the guidelines used nationally, approaching that of the professionally driver published performance tests.
15 fps/s is 10.2 mph/s, roughly 1.5x the aforecited Progressive figure. 20 fps/s is 13.6 mph/s, roughly double it.
7 mph/s does not seem all that hard. It's probably harder than my mother typically brakes in her Toyota Avalon, though I probably exceed that threshold by a considerable margin several times per day in my own car. Over the past decade, she has been in three or four collisions, and I've been in none (assuming you ignore the one where I spun off the road and hit a tree backwards towards the end of the day on a club run, while trail-braking on over-heated tires. But no insurance claims were filed on that one.)

07-30-2012, 08:22 PM
Boost Pope

Join Date: Sep 2005
Location: Chicago. (The non-murder part.)
Posts: 29,154
Total Cats: 2,867

---

07-31-2012, 12:55 PM
Elite Member
Join Date: Apr 2006
Location: Chicago, IL
Posts: 9,444
Total Cats: 876

---
Originally Posted by
Joe Perez
Right thats why i wish some of our track junkies would do it :P
Take the 30 day trial and then say "So tell me how much am i going to save."

07-31-2012, 01:21 PM
Senior Member

Join Date: Feb 2012
Location: chicago
Posts: 692
Total Cats: -33

---
this whole snap shot thing is pure crap. If I brake super slow and never speed, does that make me a safe driver? NO obviously not. being a safe driver has nothing do do with a GPS and a g-meter and it bothers me that the sheep collectively think this is a reasonable way to price insurance.

things that should mater, like situational awareness, proper mirror adjustment and basic driving skills somehow are never entered into the conversation. why is it so rare never for my circle of "manic" track driver friends to have wrecks but among other circles seem to be a common thing. perhaps because track drivers are used to watching very carefully to what is going on in front of them and to what the car next to them is doing.

I wonder how many of the the rolling road blocks on the road have one of these bs Snap Shot things and are foolishly trying to get the cheapest insurance possible when in reality it will never be cheaper, just more costly for the drivers they believe pose a greater risk, people who actually have somewhere to go.

will one of the electronics guru get one a split it open for use to see please.
Thread
Thread Starter
Forum
Replies
Last Post
Miata parts for sale/trade
Suspension, Brakes, Drivetrain