Finally joined the turbo forum

02-12-2019, 04:05 PM
Newb
Join Date: Feb 2019
Location: Arizona
Posts: 7
Total Cats: 0

Finally joined the turbo forum
---
Hey guys, how's it going? My name is Christian, I'm from Arizona, and I drive a 1999 Miata NB1. I've owned the car for about a year and a half now and finally thought I should join the forum. Since, I've had the car I've had a ton of bad luck with it(and other people not seeing it -_-). So, I've been slowly trying to get it ready for boost while at the same time researching as much as I can. I still have some work to do until I even get to that point but joined anyway since I find myself already reading a bunch on here already. My end goal right now, is just to get a reliable daily/occasional drift car somewhere around the 200 WHP mark.
I'm still pretty new to forums in general and this will be my 1st boosted vehicle so I have a ton of learning to do, but I'm definitely looking forward to learning from you guys and asking you questions in the future!
Currently the car has about 118k miles on it, Hardtop, Tein Flex Z Coilovers, and some busted MST wheels lol
P.S. I saw some other posts asking for pics of the newer guys car. I don't have any on me but I'll try to post a couple when I get home from work.

02-12-2019, 04:28 PM
Moderator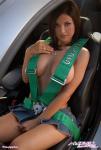 Join Date: Nov 2008
Location: Tampa, Florida
Posts: 19,047
Total Cats: 2,396

---
Miatas make terrible drift cars due to their low polar moment of inertia. Any idiot in a 240 or rx7 will hold a drift angle much more easily because the cars are better for it. They will make you look like a rookie even if you are better. Have you actually considered driving it on real race tracks on open track days? That same low polar moment of inertia makes them significantly better as track cars and helps you whoop Corvettes' asses (and pretty much everything else) in the corners on a race track.
Thread
Thread Starter
Forum
Replies
Last Post