N00b From Aggieland

02-12-2019, 09:49 PM
Newb
Join Date: Feb 2019
Location: College Station
Posts: 2
Total Cats: 0

N00b From Aggieland
---
Hello all,
It has now been a full year since I purchased my less-than-clean Black 1994 Miata, and It's been a rewarding start. I'm happy to report that the odometer turned over 220K miles at outside of College Station, TX last week, and I'm going to get a dyno tune this Friday.
A few specs...
Stock Block
Cast Iron Manifold; FM Downpipe; 2.5 inch Catless Exhaust
ISR T25 Turbo
Turbosmart 7 PSI Wastegate (Bumped to 10 With EBC)
Mishimoto Intercooler with DIY Full 2.5 inch Piping
Coolant Reroute and Upgraded Rad
MS2PNP
640 cc FF Injectors
All of this makes the car a riot on all-season tires (upgrade in the works; reminder: I'm a college student). I'd be satisfied stopping at 220-230 whp on the dyno this Friday, but I'll see how it does. This turbo is probably flow limited in the 240-250 whp range, but I have stock ignition, and I'm using 93 octane, so I'd be concerned at that level (the IAT would probably climb too high anyway). Let me know your thoughts on my setup and goals for the dyno, and if anyone is close to the College Station/Bryan area, I'd love to meet up.
I've done more than I mentioned above, but I'm forgetful and pretty hungry at the moment, so please ask.
Obviously, feel free to flame me for any ignorance; I have a lot to learn.

02-13-2019, 09:25 AM
Moderator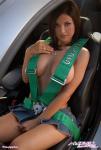 Join Date: Nov 2008
Location: Tampa, Florida
Posts: 19,294
Total Cats: 2,434

---
It's okay. The programmers recently downgraded The Forum and lots of things like that don't work correctly. They called it an upgrade but I think they used interns from Bangalore and this was their first project.
Welcome to The Forum. Sorry about you being an Aggie, lol.
We got a lot of people throughout Texas on this forum. Many of them do track days.
Thread
Thread Starter
Forum
Replies
Last Post