Lurker here....mostly post over at miata net.

11-19-2010, 02:41 PM
Moderator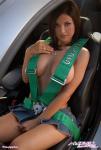 Join Date: Nov 2008
Location: Tampa, Florida
Posts: 17,926
Total Cats: 2,108

---
Apology accepted. I'm sure you are probably a great guy. But there are reasons we have limits. We would like to see people become productive and involved members before allowing them an all access pass. It also allows us to screen them for their intent as well.

Your intent seemed obvious. You just needed to make a handful of lightweight posts to gain PM status. I get it. Anytime I click the "new posts" button and six or eight of the new posts are authored within the last 45 minutes by someone I have never heard of, that is a pretty good sign that the mods are about to ban someone. It usually means that someone cares more about themselves getting to PM than us having to endure a barrage of electronic junkmail. It is selfish and an affront to the etiquette standards of this particular forum. And yes there are much higher standards for noob behavior here than on m.net or cr.net. I did not set the standards, but I think they yield a higher level of discourse and make the non-bs threads far easier to search.

I think that you will probably do fine here. You just needed to know that doing it that way wasn't particularly cool and you also needed to know what was considered proper in this forum. It's done and over. Like I said, you have reacted well and I think you will be fine here. Every forum is different and these guys keep a pretty clean house here. I am glad you weren't banned because I think you do have something to contribute and will be a helpful addition to the crew. This place is about give and take. We can't all pitch all the time. Somebody has to catch. We all take turns pitching and catching except Hustler. He's the Alpha male...

unless you catch him on a day when he is whining and insecure like a little girl...

11-19-2010, 05:10 PM
VladiTuned

Join Date: Apr 2008
Posts: 35,078
Total Cats: 3,113
Thread
Thread Starter
Forum
Replies
Last Post