My 99 perpetual project car

03-02-2019, 10:20 PM
Newb
Join Date: Feb 2019
Location: Utah
Posts: 1
Total Cats: 0

My 99 perpetual project car
---
Hello All,
Iíve been a Miata fan since the early 2000s and have owned a dark blue 1999 for about 4 1/2 years. During that time itís had the engine out 3 times and the head out at least 1 more time. It turns out that my original head had some kind of undetectable flaw/crack somewhere in the cylinder 2 intake port that dumped coolant into the cylinder after it got hot. I had it gone over a few times before I cut my losses and bought a remanufactured one.
since that time I picked up a second hand engine from a msm with a gt2560r from flyin miata. I installed that last winter and have been driving it with the voodoo II piggyback controller for about a year now.
The rest of the the car is pretty much stock for now aside from a hard dog roll bar and an eBay gv style bumper lip.
This winter I picked up a used set of raceland coilovers and some new eibach swaybars. Iím still waiting to install those since Iím still recovering from back surgery in January.
Future plans are to install the new suspension and eventually replace the stock wheels with some 15x8s and performance tires. Iím open to suggestions for both tires and wheels. Itís my daily driver for 8 months of the year ( 4 months in the garage to avoid Utah salt and snow). I donít have the time or money for track events, so a spirited commute is my primary form of enjoyment.
Thanks for reading.
PS I have a Hydra Nemesis 2.6 with a harness for a msm that Iím looking to sell. Let me know if youíre interested.

03-03-2019, 07:40 AM
Moderator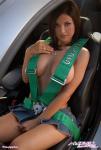 Join Date: Nov 2008
Location: Tampa, Florida
Posts: 19,047
Total Cats: 2,396

---
Welcome to The Forum. I think we have a couple other guys from Utah here.

You will find it the racelands are not very good shocks and will typically ride much worse than stock. And stock sucks. If you are to be on a tight budget check out the DIY Bilstein thread. You can make your own decent coilovers with good damping rates.

Good luck!
Thread
Thread Starter
Forum
Replies
Last Post