Where to start on mods? I bought 2000 miata with 60k miles! Completely original!

03-05-2019, 08:01 PM
Elite Member

Join Date: Sep 2010
Location: Laguna Hills, CA
Posts: 7,187
Total Cats: 606

---
Damn. You guys are getting soft. Lots of spoonfeeding going on here.

OP, your best bet, seriously, please, go read some build threads. Like, the first couple pages of build threads, all the way through, start to finish.

I don't say this so you can copy their builds - I say this so you can learn from what other people do. Build threads show you why people do what they do, and how it turns out for them.

Do that, then report back to this thread. Seriously: Don't come back here til you do that.

03-06-2019, 10:30 AM
Newb
Join Date: Mar 2019
Location: Asheville NC
Posts: 9
Total Cats: -14

---
Originally Posted by
borka
If you value reliability, do not touch your low mileage engine. dont open it, dont deck it, dont shave it. leave it alone.

only open up the engine if you are committed to a full on build/rebuild with performance parts.

Wheels:
most popupar wheels are 15x8 (205 &225 tire size) and 15x9 (225-245 tires)
for 15x9 wheels you will need to install coilovers as wheels wont clear stock diameter springs.
most popular names are 949 racing 6UL, Advanti Storm, jonglboad and a few other names.

Coilovers: dont cheap out here, in my experience a good midrange setup is BC racing ($1100), and best setup is Xidas ($2200)

Brakes: you are fine with stock brakes, just add good pads. stoptech sport, hawks hps etc...

Exhaust: Racing beat and FlyinMiata makes good sounding, not loud exhausts, i've owned racing beat exhausts and they sound good, not loud and deep.

Also many upgrade the exhaust header and downpipe to a 2001-2005 miata style, its a bolt on swap and this design tubular header flows better than 99-00 cast iron piece.

Add a real rollbar if you want to drive spirited curves, autox, track etc...Track dog is a popular one.

for a stock engine, best performance mods for the $$$ will be the, the 01 header, aftermarket exhaust and megasquirt ecu.

dont expect drastic gains, without a fully built engine or turbo, you'll probably gain 10-20hp at most with i/e/h/tune
Thank you! This is exactly what I am needing. I greatly appreciate it! Now I have a bit of direction of what to do first. Thank you for taking the time to reply.

03-06-2019, 09:47 PM
Moderator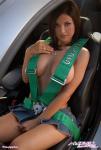 Join Date: Nov 2008
Location: Tampa, Florida
Posts: 19,047
Total Cats: 2,396

---
Wheels with the proper offset for Miatas are found at Goodwin Racing.

Start with suspension, wheels/tires, and rollbar. Windshields fold flat with the top of the door on our cars. Real rollbars are well worth it (not style bars).
Thread
Thread Starter
Forum
Replies
Last Post
Miata parts for sale/trade
Miata parts for sale/trade
Miata parts for sale/trade
Miata parts for sale/trade