MSPNP - what else do I need?

03-06-2014, 11:57 PM
Elite Member
Join Date: Dec 2007
Location: Nebraska
Posts: 4,713
Total Cats: 139

MSPNP - what else do I need?
---
Getting ready to install the MSPNP in the SAAB.
It's an older unit but is brand new, factory wrapped. It's a MSPNP MM9495 v 1.01 Rev C. All that it came with was the 10 wire pigtail. Reading on the DIYAutotune site MSPNP has a 4 bar MAP sensor in it so it looks like all that I need to buy is the GM IAT sensor.
MSPNP and DIYPNP IAT Sensor Kit - Aluminum Bung DIYAutoTune.com
I need some sort of tuning cable. Looks like I need the USB to serial adapter. I don't have a db9 on my computer. Is this the only cable that I need to connect to the MSPNP? Can't tell in the photo if it has the plug to plug into the MSPNP. Looks like I might need this tuning cable?
MSPNP Gen 1 Tune Cable DIYAutoTune.com
USB to Serial Adapter - Works with TunerStudio! DIYAutoTune.com
Do I need VEAL? Looks like the CD that came with it has MegaTune. Is this all that is needed and VEAL is a "nice to have"?
I have a WB already.

03-07-2014, 12:14 AM
Cpt. Slow

Join Date: Oct 2005
Location: Oregon City, OR
Posts: 12,760
Total Cats: 676

---
Yes, that's what you need. If you have a DB9 port on your lap top, you only need the tuning cable. If you only have USB, you need the USB-serial adapter, definitely get the one from DIYautotune.

And buy the full version of tunerstudios for VE analyze live and fuel auto tune, it'll save a lot of time.

03-07-2014, 08:55 AM
Moderator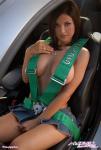 Join Date: Nov 2008
Location: Tampa, Florida
Posts: 18,875
Total Cats: 2,353

---
I love VEAL. It coarse tunes and fine tunes the VE table for you. It is very much worth the money to me. Every time I make a change to the car after that it can easily be retuned.

03-07-2014, 10:36 AM
Elite Member
Join Date: Dec 2006
Location: Taos, New mexico
Posts: 5,771
Total Cats: 281
Thread
Thread Starter
Forum
Replies
Last Post
Miata parts for sale/trade