First track day? Read this...

08-08-2018, 02:00 AM
Senior Member

Join Date: Feb 2012
Location: chicago
Posts: 692
Total Cats: -33

---
Originally Posted by
ApexAddict
the **** hanging from your mirror and finger pointing distress in not well regarded

08-08-2018, 07:39 AM
Moderator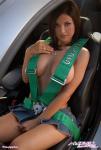 Join Date: Nov 2008
Location: Tampa, Florida
Posts: 18,576
Total Cats: 2,292

---
I agree. The toys are blocking part of the driver's field of view (and are illegal on the street in many states for this reason). You also don't need more distractions. The human brain is designed to notice and respond to movement.
I also agree that the distress level is concerning. This is obviously a beginner group and they are therefore not paying attention enough to traffic. They are learning the track and learning the feel of their cars at various unfamiliar attitudes and loads. And because they are beginners they are also likely distracted buy their own toys hanging from their rearview mirrors and often unsecured items in the car. If you're running in a beginners' session try to be a bit more understanding and forgiving because it can be overwhelming to someone new.
I always find it interesting that the srs bzns beginners and intermediates are much more likely to have the red mist. They find it impossible to pull off and let traffic pass to give themselves some open track.

08-23-2018, 03:50 AM
Junior Member
Join Date: Sep 2017
Location: SF Bay Area
Posts: 68
Total Cats: 2

---
Originally Posted by
psreynol
My advise is to get several seasons of 5 or 10 track days each in a slow car under your belt so you understand how to manage and budget consumables and mods. you'll get way more out of driving a slow car fast then a fast car slow. get on track and prioritize changes based on your budget. don't make the mistake of blowing a bunch of money on the car before ever going on track. Sounds pretty lame I know but considering what is spent on track cars, the wash our rate is unbelievable. Your track car project will never be done, please don't try to tell yourself only xyz parts are needed. Please don't get a fancy paint job! for some reason new paint is a tire wall magnet!
I wish I had read this at the beginning of my HPDE journey. If someone had told me it would take 10-12 track days just to get to be an okay driver, I would've changed less things on my car and worked on driving more. I've got a dozen track days, and I'm finally closing on the point where I'm maybe ~5-10 seconds off from what the car can do at a track.
Speaking of lap times, for beginners,
don't.
It's 2018 and everyone can download a phone app that does timing, but its not necessary for beginner sessions. I myself am guilty of this, but people end up chasing "fast" driving instead of good or consistent driving. I've got two friends who think that braking later and later makes them faster because their lap timer says it does. Yes, it does make you faster for one lap, but then either you go off or don't learn anything because you are so focused on braking late to understand how to drive well.
Thread
Thread Starter
Forum
Replies
Last Post
Suspension, Brakes, Drivetrain
Suspension, Brakes, Drivetrain