What do YOU use to tow your track car?

05-15-2019, 01:00 PM
Moderator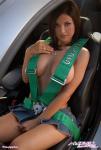 Join Date: Nov 2008
Location: Tampa, Florida
Posts: 19,329
Total Cats: 2,434

---

05-15-2019, 08:00 PM
Junior Member
Join Date: Nov 2010
Location: Chicagoland
Posts: 162
Total Cats: 2

---
the 3.0 are good engines. They have the extended emissions warranty that covers engine and fuel system. Mine came with a bumper to bumper for another year and half then I have emissions warranty for another 3-4 years after that. as long as I don't put more than 120k miles on it. Only at 60k miles right now. I really want to deleted it and add the malone tune. 85 more hp would be nice.
As long as you run good fuel and keep the maintenance up I don't see any injector fuel system issues on these from what I've seen. Also the EGR system is pretty good compared the rest out there that destroys engines.

05-15-2019, 09:39 PM
Junior Member
Join Date: Dec 2016
Posts: 89
Total Cats: 13

---
Originally Posted by
natedawg
I'm not sure if it was this post that got me to go look at one of these but I bought a 2014 diesel Cayenne a month or so ago. So far I love it. Now i just need to get the miata put back together. I went from a 2500 -> 3500 -> cayenne for a tow rig. Right now I have a light steel open trailer but maybe down the road will look for a lighter enclosed options. I'd like to keep the weight under 6k total. I'm getting 32-35 highway. 22mpg is great loaded up can't wait to actually use it for towing.
You're welcome!
I debated between the Touareg and Cayenne. The Cayenne was superior in braking, steering feel, and suspension and generally felt a bit more special. Which for $77k sticker it damn well should be. The only thing those krauts can't do is make some damn cup holders. First day to work I had my coffee mug in there and it went all in my lap on the first highway cloverleaf. I spent like $50 on the freaking plastic insert to make one cup holder useful.
I got the TCU flashed back to the pre-dieselgate calibration, which gets rid of the high revs when cold. It also makes the gear shifts generally more consistent; as in shifting at the same rpm and maintaining reasonable spacing. You can tell they messed with the shift maps to eek out every last bit for emissions performance, so some gears are held long and some are short shifted. Before dieselgate each vehicle (Touareg, Q7, Cayenne) had exclusive trans calibrations. After dieselgate they got one cal to pass and then flashed it to everything.
Next on the list is the Malone stage 1. I'm not going to mess with deleting the DPF/SCR.
Parts don't seem too outrageous. You can get regular maintenance stuff on Amazon or RockAuto. If you go to the dealer you definitely pay Porsche prices. I knew going in I'd be doing all the maintenance myself. There are certain things they really seem to try and **** you over on. The navigation updates in particular. They only come out every 3 or 4 years and cost $250... just for the maps. Then you pay the dealer for 2 hours of labor to register them to your vin with the PIWIS scan tool and install them. So all in you're looking at $5-600 for a damn map update. No thanks.
One thing I would recommend is changing your transfer case fluid. I was getting a judder when making tight turns at low speed and changing it with the Ravenol fluid cleared it right up.

05-17-2019, 11:29 AM

---
Just some tow pictures. I really love my Lexus. Tows around my little Japanese cars just fine. Converted it to E85 and that helps too I think. Also installed air bags. Super comfortable and quiet also.
I towed through the bomb cyclone, truck was beastly
Getting 11-12 MPG towing average on E85. Speeds up to 75 MPH.
Recently my neighbor bought his first trailer and decided to park it inside my fender:
What a ***** right?!
Well I found the only color-matching, Lexus LX470 driver's side fender in the entire country in Mississippi. I asked for a favor on a land cruiser forum and someone picked it up and shipped it to me! That was very cool of him! Fixed way under budget.

05-17-2019, 12:26 PM
Junior Member
Join Date: Nov 2010
Location: Chicagoland
Posts: 162
Total Cats: 2

---
love the land Cruiser look. I looked at those and almost bought a 2013 gx460 (literally I was driving to a dealer 3 hours away and was sold from under me) seemed a little better on gas than the Land Cruiser. I couldn't handle Land Cruiser MPG.

05-17-2019, 01:11 PM
Senior Member
Join Date: Jun 2010
Location: San Rafael, CA
Posts: 1,361
Total Cats: 69

---
I loved my 1993 Land Cruiser! With the AWD and boxed frame the truck was a SOLID tow vehicle! I had the 4.5liter 6 engine so it was under powered. I bet with that 8 banger you have all the good I had without the bad. Good choice!

05-18-2019, 11:43 AM

---
It is awesome, I've been doing some 4WD trails with it too. It's the perfect do-it-all SUV. The GX is great too, but was just too small inside for my liking. The V8 is not the greatest only 4.7L with 275hp and MPG is pretty horrible but it should run forever.

05-18-2019, 11:51 AM
Elite Member

Join Date: Aug 2011
Posts: 10,368
Total Cats: 1,649

---
Details on E85 conversion? My dad has an 05 LX470, and i've got an 06 V8 4Runner. (and a 94 FZJ80 that i still don't understand how people call it "underpowered." The torque that thing puts out is stupid.)

05-18-2019, 12:40 PM

---
I just bought one of those universal conversion kits that plugs in between the injectors. The one I got is the eFlexFuel system which includes a GM ethanol sensor whereas most kits don't (not sure how they work). Gains are minimal since it's just adjusting the fuel and the ECU is otherwise stock, but it gives about the same power bump as 91 octane while being the same cost per mile as regular 85 octane.

I also purchased a MAP ECU which is a piggypack popular for the Toyotas but I haven't installed it yet. It's pretty cool for being just a piggyback, will let me pull in an ethanol sensor signal and adjust timing maps and converts it to MAP in case I want to boost it in the future...

06-05-2019, 06:52 PM
Newb
Join Date: Jan 2019
Posts: 4
Total Cats: 1

---
To continue the Toyota theme, here is my 4th gen V8 T4R. Great all around vehicle, and a tad bit lighter than the Lexus GX470 allowing for slightly more towing capacity of 600 to 800lbs depending on if you got a 2WD or 4WD. Tows my S2 car with no issues over all the massive mountains we are blessed with in Cali. Also, not too shabby on the trails. I've put a 3" leveling kit and 32 x 10.5 Falken Wildpeak all terrain tires. I still get about 12-13 MPG towing even with the tires. The front sags a bit still probably due to the extra weight of the V8 compared to the V6 models and the springs taking that load for 13 years now, but it sorta evens out when towing. Got to love Toyota build quality from this era. Interior has zero rattles even with over 160 K miles. The rest of the car will fall apart before the motor gives up on me. One of highest quality vehicles I've ever owned. It's about 72" inches long in the back so just enough space for a single air mattress to sleep on when at the track with the seats folded down, and I sleep like a baby.

06-05-2019, 10:23 PM
Junior Member

Join Date: Dec 2011
Location: Sevierville, TN
Posts: 180
Total Cats: 20

---
Towed from Sevierville to Michigan a few weeks ago for the Kmiata Miata meetup. Averaged 17.8 mpg and forgot the car was behind me for most of the trip. I love my ram 1500 ecodeisel. Averages 24 mpg with the GDE tune and has been a great truck so far.

06-25-2019, 07:21 PM
Supporting Vendor

Join Date: May 2005
Posts: 6,132
Total Cats: 1,513

---
Replaced the 2016 Ram 3500 dually with a 2019. Same basic truck but with the following upgrades:
Self leveling air suspension
19 speaker Harmon Kardon audio system (sounds great)
adaptive cruise control
heated rear seats
Bunch of other cool little features but those are the standouts. Oh yes, it has 1,000 lbs torque.
One Thousand
Ft-lbs
Torque
That is all
__________________
www.facebook.com/SuperMiata
949RACING.COM
Home of the 6UL wheel
.27 SNR

06-25-2019, 07:45 PM
Elite Member


Join Date: Sep 2010
Location: Laguna Hills, CA
Posts: 7,220
Total Cats: 628

---
This truck has speakers in the rear headliner. I've never enjoyed such a great soundstage while riding bitch in the back seat before. Win.
Thread
Thread Starter
Forum
Replies
Last Post
Suspension, Brakes, Drivetrain