Big vacuum leak that I cannot find

05-31-2019, 06:01 PM
Newb
Join Date: Mar 2019
Posts: 12
Total Cats: 0

Big vacuum leak that I cannot find
---
I have a 95 with a brp m62 scThat I just put on. And I am having large issues with vacuum. The car idles at about 2000 RPM. It currently has an ms2pnp and an intercooler set up out the front and itís running an FR gauge and a boost gauge.
The boost gauge reads about 0 hg vacuum. Thatís bad.
Ive tried changing the tune and limiting/closing the idle control valve. Also I have gone through the engine and sprayed carb cleaner at what I think is all areas a leak could be. (Intake manifold, injectors, intercooler couples/pipes.) There has to be something that is super wrong but I canít find it.
The car had a leak when running before the intercooler too..
I know the piping after the sc is ugly but I have PS and AC so itís the only way I can run an intercooler. At least with the 2.5in pipe I have.
any ideas on what could be happening?

05-31-2019, 06:44 PM
Newb
Join Date: May 2019
Posts: 12
Total Cats: 2

---
Check behind the intake manifold, there is I believe a 3/8 vacuum plug. Due to age these can crack and leak. Did you use a new gasket at the throttle body and cleaned any old gasket off completely? Double check your vacuum lines and that they are routed properly. I'm not familiar with the mp62 but some of the lines in the photo look suspect.

06-01-2019, 08:27 AM
Moderator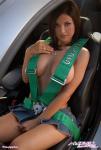 Join Date: Nov 2008
Location: Tampa, Florida
Posts: 19,310
Total Cats: 2,434

---
It's the hotside valve cover vent being plumbed post throttle.

Fix the pipe/upper radiator conflict before driving it or you will have a bad time.

Is the material of the accordion pipe between the MAF and supercharger fire rated?

06-01-2019, 09:58 AM
Junior Member
Join Date: Apr 2007
Location: Toronto, Canada
Posts: 464
Total Cats: 22

---
Looks from the pic that the vent is plumbed upstream of the throttle - throttle is on the rear of the supercharger.
That accordion pipe looks like the standard BRP supplied hose.
I can't see the idle air or hose - where is that?

06-05-2019, 09:46 PM
Junior Member
Join Date: Mar 2006
Location: San Diego, CA
Posts: 86
Total Cats: 4

---
I think there's more issue with the pax side IC piping then driver side. I would shorten that coolant hose and replace that piping with a 90* coupler for more space.
Man frottage is all good, but radiator and IC tubes rubbing is recipe for a sad times.
Thread
Thread Starter
Forum
Replies
Last Post