MX5 with M45 supercharger woes (Megalog file included)

09-11-2016, 09:23 AM
Newb
Join Date: Sep 2016
Posts: 3
Total Cats: 0

MX5 with M45 supercharger woes (Megalog file included)
---
Hi all,

New user here. I'm really suffering with my MX5 and I'd really like some pointers.

The car: MX5 NA 1800
Boost source: M45 (from a mini) 67.5cm pulley
Setup: Dual throttle bodies, down and around intercooler, TDR 150mm pulley, Megasquirt V2, 450cc injectors.
Issue: Lack of boost.

So I have installed the SC, intercooler, megasquirt and injectors and I was getting the whole of 3.5PSI of boost. I then bypassed the intercooler and found that I was getting closer to 5.9PSI. I checked for boost leaks, couldn't find any, so I installed the 150mm crank pulley with the intercooler and I ended up with 5PSI.

As you'd imagine I was very disapointed so ended up purchasing a boost leak tester which I found was loosing boost at around 5.5 PSI - so I sorted that problem out.

Now the maximum PSI boost I am getting is 5.5PSI boost with everything attatched, the system not leaking any boost (apparently).

I have also installed new O rings on to the injectors and blocked off the EGR valve.

So miataturbo, is there anything I'm missing? Is there anything more that can be done?!

I have also included a Megasquirt log of a run earlier today if that is of any help?

Cheers,

Allister

09-11-2016, 12:22 PM
Newb
Join Date: Sep 2016
Posts: 3
Total Cats: 0

09-11-2016, 02:34 PM
Moderator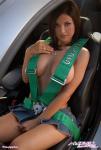 Join Date: Nov 2008
Location: Tampa, Florida
Posts: 19,046
Total Cats: 2,396

10-19-2016, 10:39 AM
Newb
Join Date: Oct 2016
Posts: 1
Total Cats: 0

---
my m45 makes 6psi with stock crank and a brp pulley(about the same size as stock), single throttle body, AFPR, begi timing control, and a stock 4 rib setup. Its been a reliable daily for 12 years. Don't sell your s/c setup, just set it up right! At idle you should be at a steady 17 psi of vac. if i were you i would check the bypass. Here is how
Good luck with your headache!
P.s. i'm not running an intercooler, since you are you might be experiencing significant pressure drop across the intercooler. I doubt that's the whole problem, but it will reduce the boost pressure slightly in the end.

10-29-2016, 04:11 PM
Senior Member
Join Date: Dec 2007
Location: Brownsburg,IN
Posts: 837
Total Cats: 62

---
Take a look at the valve that bypasses air
from the sc outlet to the sc inlet (it has a vaccum actuator) you will have low boost if it is worn or not closing all the way.

10-31-2016, 11:33 AM
Newb
Join Date: Jan 2016
Posts: 2
Total Cats: 0

---
What type of Intercooler are you using? If you installed one of those giant Ebay intercooler, you will loose 1.5 to 2 psi. My 1.6, M45, and overlay pulley without intercooler runs 8PSI. With Mazada speed stock small intercooler, I am now running at 7PSI.

Also, check you hose going to the boost gauge, all it takes is a small leak of crack on hose resulting false boost and vacuum reading.
Thread
Thread Starter
Forum
Replies
Last Post
Miata parts for sale/trade
Miata parts for sale/trade
Miata parts for sale/trade