Ryan's build thread - Clean and Mean

01-04-2019, 12:41 PM
Elite Member
Join Date: Jan 2012
Location: Tampa, Florida
Posts: 2,705
Total Cats: 200

---
A few updates are in order. I have had a few touch points with the Lotus dealer and it appears the problem has essentially fixed itself. The noise was present when the dealer took the car into the service bay. A video clip was taken evidencing the noise and sent to Lotus headquarters. Lotus advised that it could be a problem with the belt and that they should check the pulley alignment, belt wear, signs for leaks in the supercharger, and play in the snout of the charger. When the tech was performing these procedures the noise changed. The next time they started the car on 12/28/18 the noise was gone. They have been unable to replicate it for a week. They have come to the conclusion that the belt was contacting something or was somehow misaligned. They inspected the belt and it shows no signs of wear. The service manager seems kind of stumped but stated that Lotus isn't going to authorize any more warranty work if the problem appears to be resolved. There is no more noise, no engine codes, no signs of leaks, and no belt wear. I asked about whether it's possible the lobes self-cleared and he said that was highly unlikely. If there was a misalignment large enough to cause metal on metal contact it almost always results in the supercharger locking up and snapping the belt. I really don't know enough about superchargers to dispute that but I did have an EFR turbine wheel make contact with the housing and not explode which was apparently a miracle according to Southeast Power Systems. I still have 12k miles and a year of warranty left so I will take the "fix" for now and if the problem presents itself again I will make sure it's resolved. Luckily there was other minor warranty work to be completed so the time away from the car was not a complete loss. My airbag light will be fixed, the spare key is being replaced, and apparently my tire pressure sensors were also an obsolete item and were replaced by lotus with newer units.

Back to miata stuff. As some of you may know, Tony Montana has decided to go the way of the air cooled Porsche which resulted in his decision to sell his miata. I couldn't stand to see such a well built car leave the local group who all had time into it so I bought it myself. This means I will be selling my own car since I do not see the sense in owning 2 highly modified miatas. I will be finishing the tune and fixing a few small niggles with my car over the coming weeks before officially putting it up for sale. If anyone is interested let me know in a PM and we can discuss price and logistics. There is nothing mechanically wrong with the car and I was just getting it to a point where I was going to be comfortable taking it to the track again. When I put it up for sale it will be well sorted and a little prettier than it currently sits.

01-04-2019, 03:58 PM
Moderator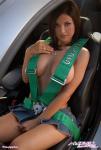 Join Date: Nov 2008
Location: Tampa, Florida
Posts: 19,032
Total Cats: 2,394

---
The only reason this thread had not been updated for quite some time in a meaningful fashion was because Ryan had discovered girls and was courting one. All of his weekends in the last year have been spent neglecting the Miata for her sake

but the car is strong and will make someone very happy. I would buy it but I just went to the trouble to put a cage in mine and I'm not doing that twice. It's got a brand new 7163 in it and a built engine.

01-05-2019, 12:23 AM
Ich verstehe nur Bahnhof

Join Date: Mar 2012
Location: Northern VA
Posts: 4,505
Total Cats: 493
Thread
Thread Starter
Forum
Replies
Last Post
Suspension, Brakes, Drivetrain
Suspension, Brakes, Drivetrain