Bench testing turbo seals - discussion.

07-02-2019, 10:32 PM
Junior Member
Join Date: Mar 2012
Posts: 91
Total Cats: 24

Bench testing turbo seals - discussion.
---
Ok, so Iíve searched high and low (both here, and on the web in general), and nothingís really come upÖ.. which is probably a sign itís not a feasible ideaÖ.
Regardless, is there a way to bench test turbo oil seals, other than having expensive equipment that can simulate an engine so far as air and oil flow.
I have a secondhand 2560 that I have no history on other than it came off an S14 that was running..
Visually it looks fine, a little bit of oily film on the intake side (presumably from a stock PCV system) and a little bit on the exhaust side (not caked by any means, just a light film)
To save me the effort of bolting it up to the car, plumbing it in, tuning it, and then cursing because it smokes like a bushfire, is there a simple way to bench test the seals?
Current thoughts are:
Cap the drain port, pressurise from the oil feed port with compressed air and listen for air leaks.
Cap drain port, fill oil galleries with oil, pressurise with air and see what psi it starts to come past the seals (the BP hits 80psi around 7000rpm from memory?)
Fill with oil, cap both ports, leave it for a few days on the workbench and see if it leaks.
Drain into bucket, Fill with oil, rig up a feed line (plus restrictor) to a small oil tank that I can pressurise with air to force the oil into the turbo at Xpsi over a period and then check for leaks.
At a guess Iíd assume that test 1 would be totally pointless, since air will leak past a seal long before oil will.
Test 2 may be unrealistic, since Iím not sure what oil pressure a turbo runs at normally (presumably itís quite low, since the feed line needs a restrictor thatís far smaller than the drain line is)
Test 3 is the simplest, but the turbo will not see any positive oil pressure, so may not show any leaks.
Test 4 I assume is the closest to real use, since it would simulate a fairly realistic situation when it comes to pressure and drainage.
So yeah, anybody have any thoughts?

07-03-2019, 06:21 AM
Moderator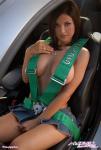 Join Date: Nov 2008
Location: Tampa, Florida
Posts: 19,298
Total Cats: 2,434

---
BW turbos are bench tested with just a few pounds of compressed air in videos I have seen. Since the drain side is not supposed to see but negligible pressure from the crankcase the values are actually very low. May be the same for Garretts. Only designed to dribble oil on the shaft and bearings.

07-03-2019, 06:48 AM
Junior Member
Join Date: Mar 2012
Posts: 91
Total Cats: 24

---
Yeah, I assumed they must run at a really low pressure, since the inlet is usually restricted down to about 1.5mm from memory? (is that journal bearing ones too? or just ball bearing?)

And the drain line is usually 8mm or more.

So yeah, not really any way for it to keep any kind of pressure in there.


07-03-2019, 09:38 PM
Junior Member
Join Date: Mar 2012
Posts: 91
Total Cats: 24

---
I thought it was just the ball bearing ones that weren't serviceable?
This one's off an AUDM S14, so Journal bearing (plus I've looked inside the oil inlet/drain, 100% Journal)

07-04-2019, 09:10 AM
Senior Member
Join Date: Mar 2014
Location: Jacksonville, FL
Posts: 1,279
Total Cats: 155

---
There are journal bearing 2560 turbos. I just assumed yours was ball bearing variant.
My ex s14 2560r was ball bearing, as confirmed by the Garrett model plate on the chra

07-04-2019, 09:08 PM
Junior Member
Join Date: Mar 2012
Posts: 91
Total Cats: 24

---
Easy assumption to make.
All the Japanese market ones were ball bearing, and the USDM ones were all that weird US only 2.4 litre engine, which I know nothing about.
Regardless, the Aussie market S14 got an SR20 with a journal bearing 2560.
Thread
Thread Starter
Forum
Replies
Last Post