Over porting a disco potato?

07-17-2012, 02:29 PM
Newb
Join Date: May 2011
Location: Charlotte, NC
Posts: 11
Total Cats: 0

Over porting a disco potato?
---
Hey there. I have an 08 NC with BEGI's S3 system on it, and a 2860RS. I also put in a 3" exhaust all the way back. Having so much free flow post-turbo, I was getting some boost creep. I wanted around 8 PSI, but it would creep up to about 14 or 15. I decided to get the wastegate ported, and they had it for a week and did a half *** job (not round, barely touched anything, shavings left all in the turbine area) so I went to work and did it myself with a handpiece and some proper suction. I decided I didn't want to pull this turbo again so I ported it to have about a millimeter overlap with the wastegate flap.

Everything installed I have the most stable boost pressure I could ask for. Sucker hits 10psi and just stops. Brilliant. The problem is I feel like I have lost some power through the entire band.

My question is.. is it possible that I could have over-ported the wastegate? Since the wastegate isnt an on/off (ie its closed until I hit 10PSI then it goes full open) rather a gradual opening, could I have too much exhaust escaping the larger diameter hole that the turbo isn't spooling as fast as it used to due to this reroute?

I guess I should admit that it is not fully tuned. Getting it done by moto-east and I had to purchase a 3" MAF body becuase I was topping out the MAF past about 6k. The only problem this causes is I can not go WOT to redline, or else I lean out pretty bad. The rest of the RPMs are pretty close to correct.

07-17-2012, 02:49 PM
Moderator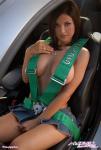 Join Date: Nov 2008
Location: Tampa, Florida
Posts: 18,582
Total Cats: 2,292

---
MAF

Wastegates open gradually as the pressure increases against the flapper unless you have an electronic boost controller that can hold it closed until the exact moment you reach your target. Enlarging the hole increases the surface area of the flapper that is exposed to pressure, therefore allowing more force to be exerted upon it and causing it to open more readily.
Sometimes when a wastegate opening is close to the size of the flapper, the flapper hangs open on the edge of the opening instead of closing flush. This is why OEMs often make the side of the opening closest to the pivot a little thicker. The opening is supposed to be slightly D shaped. Ensure that your wastegate flapper isn't hanging on the lip when trying to close, which could conceivably happen after a rookie attacks it with a Dremmel. One of the spare turbos I have in a box does this with regularity when manipulated by hand.

07-19-2012, 04:41 PM
Senior Member

Join Date: Jul 2009
Location: Seattle
Posts: 798
Total Cats: 25

---
What kind of boost controller are you using. Having a wastegate 'overported' isn't really possible if the flapper is doing its job at the right time and still seals. External wastegates have much more volume capacity (bigger) and don't cause spool problems. I have a BP exhaust valve brazed on the arm in place of my OEM flapper (MSM). It allowed an extra mm or two of wastegate area and still seats properly. Admit it - you just liked 15psi!


07-24-2012, 01:19 PM
Elite Member
Join Date: Sep 2007
Location: Charlotte, NC
Posts: 6,849
Total Cats: 71

---
Posting isn't necessarily making the hole larger. It's about creating a channel leading to the wastegate to change the airflow and create a path of lower pressure to help exhaust gas go through the WG.

Target boost is target boost. You're not bypassing too much air..if you were, you'd fail to hit target. The power lodd you feel may be to stable boost and not overboosting...you may have been used to the extra psi.

BEGi ported a turbine housing for me and it worked perfectly. They know what they are doing.
Thread
Thread Starter
Forum
Replies
Last Post
Suspension, Brakes, Drivetrain