Twin-charged FWD Corolla....

06-29-2009, 12:28 PM
Elite Member
Join Date: Sep 2007
Location: Charlotte, NC
Posts: 6,851
Total Cats: 71

Twin-charged FWD Corolla....
---
Saw this on a local forum, pretty friggin cool.....but will probably another tractionless wonder (but maybe not..there is a local guy with a older Protege making ~400fwhp and can put it down!)
Originally Posted by Corolla_TC
I thought I would share my twincharge project with yall. Feel free to ask me any questions. This project is being done by myself and another member on here Shubert_ae102.
Getting the old motor ready to pull
Old motor pulled
empty bay ready for new motor
new donor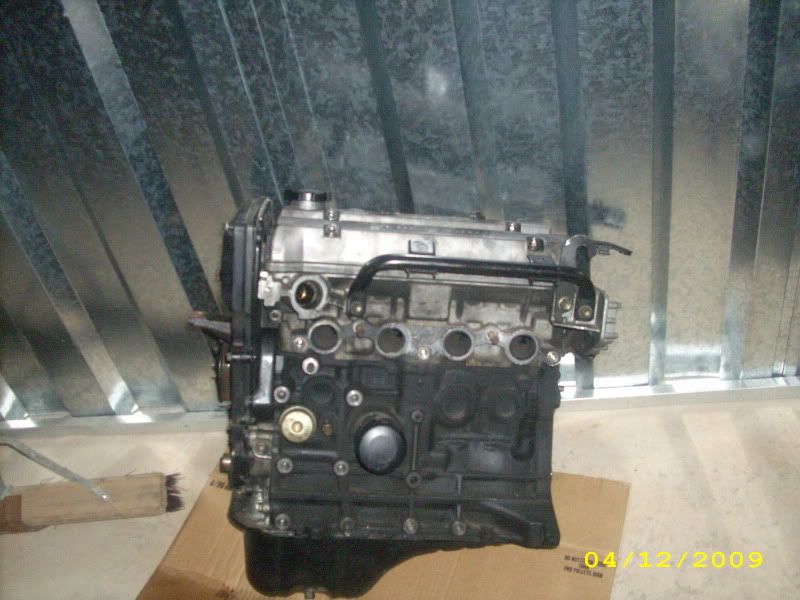 Big port head installed with ARP head studs and HKS 2.0mm headgasket and TOGA HV oil pump installed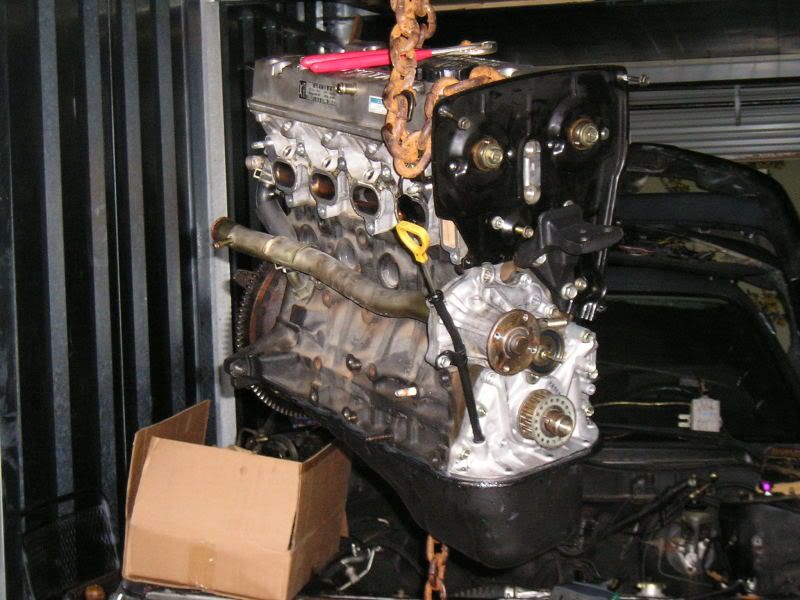 Modifying the intake manifold and supercharger plenum to fit
Bigport intake, Techno Toy Tuning adjustable cam gears, supercharger, waterpump and tubular manifold installed
E58 w/lsd tranny installed and engine ready to go back in
Engine bolted back in
4agze cam covers normally say
twin cam 16
super charger
shaved the cam 16 and super so that they now say twin charger and painted them black
tubular manifold reinstalled and t3/t4 turbo, manifold, tial 38mm wastegate installed
Garret intercooler and piping installed. Aeromotive fuel pressure regulator and stainless braided lines done. HKS SSQV BOV installed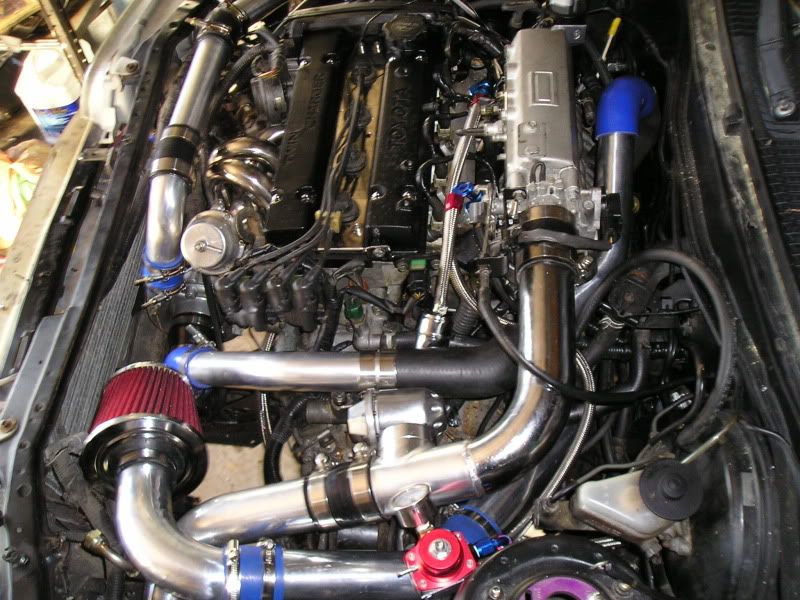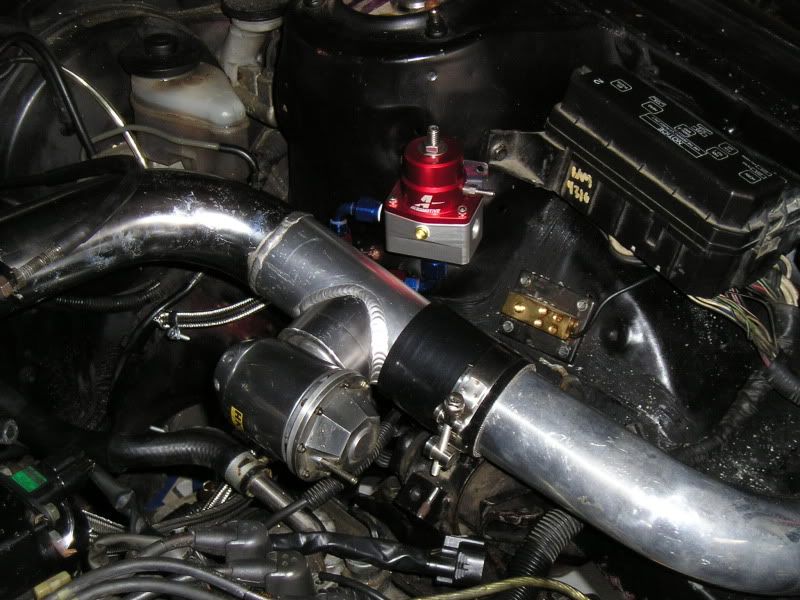 Oil catch can installed. better view of the fuel lines. forgot to take pictures but we used rx7 550cc injectors
This past weekend, we got the AEM fuel and ignition controller wired in, Greddy profec electronic boost controller wired, AEM UEGO wired in and oil cooler and relocation kit put on. We got the oil feed and drain done for the turbo. Forgot to get some pictures before we left. We just need to finish the vac lines routed and the radiator mounted.

06-29-2009, 12:59 PM
Senior Member
Join Date: Jul 2008
Posts: 598
Total Cats: 0

---
holy!

FWD though? Why.... whyyyyyy!?


All the work looks to be taking place inside a storage unit. Props for that... I've been having a hell of a time in my storage unit w/ no 120V source and no overhead lights. Maybe they have those two luxuries.

06-29-2009, 02:11 PM
Senior Member
Join Date: Jun 2006
Location: Outside of the Loop-ATL
Posts: 753
Total Cats: 0

---
mmm... is it me or does it look as if the supercharged air is plumbed into the intake pipe of the turbo... but there is a filter in front of the turbo as.. So any compressed air that leaves the supercharger is entering into an unsealed camber..

Other then that.. piping night mare. He should have put a Y-pipe in the hot side piping and just dumped the supercharged air into area. It would have made the piping less of a nightmare.
Thread
Thread Starter
Forum
Replies
Last Post
Local Meets, Events and Tech Days