N00b from WI

02-17-2019, 04:23 PM
Newb
Join Date: Feb 2019
Location: Outside of Green Bay, WI
Posts: 22
Total Cats: 1

N00b from WI
---
Hi, Iím Alex. Iím a certified Ford technician at a local dealership. Just picked up my first Miata this last week. 97, 89k miles, and totally rust free. I have not taken the car for a proper test drive yet due to it being rust free. I plan on going on road trips and using the car for AutoX. I read the coolant reroute is an important first mod before running the car hard. +/- 215whp is the end goal, but I have plenty of time to get there. I want to build the car reliable enough to be able to drive it anywhere without hesitation.
---
Last edited by WItata; 02-17-2019 at

04:37 PM

.

02-17-2019, 08:07 PM
Moderator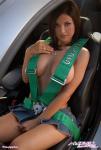 Join Date: Nov 2008
Location: Tampa, Florida
Posts: 19,047
Total Cats: 2,396

---
Welcome to the forum. I don't know if a reroute is the first thing to worry about, but it is helpful once you start making more power.

Usually quality suspension and brake pad upgrades are towards the top of the list.

02-18-2019, 08:08 AM
Newb
Join Date: Feb 2019
Location: Outside of Green Bay, WI
Posts: 22
Total Cats: 1

---

02-18-2019, 09:32 AM
Newb
Join Date: Feb 2019
Location: Outside of Green Bay, WI
Posts: 22
Total Cats: 1

---
This is my first manual car. I have owned the same base model automatic cobalt for the last 9 years. Iíve taken it to AutoX and drove it 14 hours to Tail of The Dragon and back (auto trans got a major workout on that trip). I have made it enjoyable for me to daily and have put on over 160k miles on it.
That being said, Iím not new to driving manual. My friends have always had manual vehicles and Iíve always driven them (99 cobra, 01 S2K, Padlockís miatas, and others). Being a technician, I work on new vehicles every day (and some rusty old POSís). Iíve driven brand new Shelbyís, a Ford GT, and other ford ďperformanceĒ vehicles.
After bringing this Miata home and pulling it off the trailer, I realized the last 2 owners took VERY good care of it. Itís a 3 owner car, myself being the fourth. The second owner, who owned it the longest, kept records of EVERYTHING. There was a little black notepad in the glovebox with time and mileage of when anything happened with the car (ie oil change, tire rotation, headlight bulb replacement, day vehicle was put into storage, Day vehicle was taken out of storage etc). The 2nd owner also bought a couple repair manuals and a ďMiata spirited drivingĒ book that I have been thumbing though. I have truly found a gem of a vehicle. It appears to need nothing as far as maintenance goes.
The list of things Iíd like to do before it gets on the road when the salt is gone:
- Retrofits (every car needs good headlights)
- brake and clutch fluid swap to DOT4
- new plastic gauge cover (current one is shattered)
- cut and polish the clear coat to get all the small scratches out (not sure if the previous owners knew what a microfiber cloth was)
- fix the coolant seepage by the heater core in the engine bay
- EGR delete
- charcoal canister delete (any how-toís for this?)
- gut the doors, clean the window tracks, and reassemble
- LED 3rd brake light retrofit (already working on it)
Any other small projects I could do and How-To guides would be appreciated.
Thread
Thread Starter
Forum
Replies
Last Post