00-99 NB Turbo Spark Map

11-11-2018, 04:43 PM
Newb
Join Date: Nov 2017
Posts: 2
Total Cats: 0
00-99 NB Turbo Spark Map
---
Hi Guys,
I have a 00-99 nb with stock rods, 700ccm injectors, Denso COPS. I put a 2860RS 7 months ago with low boost (9psi) and drove around 4000-5000 kms (3200 miles) without any issue. I love it.
But I think my spark table could be better. I think its too conservative. The guy who programmed it tried to keep my rods in one piece and it worked
Could somebody help me to improve my map?
I use only 98/100 european octane fuel. (If a fuel is 98 RON then it will be 93 PON -> 93 PUMP).
My goal is to still keep my rods inside the engine, but I think my setup could be stronger in low revs
Many thanks

11-11-2018, 04:53 PM
Moderator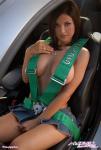 Join Date: Nov 2008
Location: Tampa, Florida
Posts: 18,917
Total Cats: 2,364

---
Your lean cruise cells at 50kpa can go up from 35 to 40.
100kpa cells look good. Above that I'm not sure without looking because your scaling is so different from mine.
Thread
Thread Starter
Forum
Replies
Last Post