First time mspnp2 setup

01-02-2019, 09:40 PM
Junior Member
Join Date: Apr 2008
Location: Southern California
Posts: 316
Total Cats: -1

First time mspnp2 setup
---
1999 Miata, NB2 injectors. So I changed mmy REQ from 12.7 to 11.5 (since the injectors are ~10% bigger)
Got it setup all the way to timing light verification. Set it to fixed value 10 degrees. Hooked up timing light, and it was all over the place (engine struggling to idle ~500rpm). Gave it some throttle and the engine smoothed out and timing light showed 10 degrees. Good.
Changed it back to "use table" and it can't hold idle - or it struggles at ~500 rpm. I'm currently on the recent basemap from DIY. I think I need ti restart the TS project since I chose wideband even though it's still currently narrowband. Have an aem uego going in soon. Maybe I should start there.
The next step was going to be changing the ignition map on the idle section per...
Mega Miata: REV1.1 Idle spark settings

01-02-2019, 10:22 PM
Junior Member
Join Date: Mar 2017
Location: Derpsville
Posts: 150
Total Cats: -12

---

01-03-2019, 01:03 AM
Junior Member
Join Date: Apr 2008
Location: Southern California
Posts: 316
Total Cats: -1

---
Alright things on my todo list...

Change from Wideband to Narrowband (until the actual wideband is installed)
Change the ignition tables so that the idle zone (<1000rpm and <60kPa is set to 10 degrees with the lowest rpm column at 12 degrees). Any issue in changing the entire column to 12 degrees and 10 degrees (all the way from 0 kPa to max kPa) at the first two columns?
Look at PWM Idle duty cycle and add % to increase the idle (or to see if the idle increases).
Look at closed-loop idle valve closed/open settings.

Check to see if there are any leaks in the vacuum line to the MS.

01-03-2019, 06:56 AM
Moderator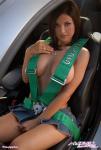 Join Date: Nov 2008
Location: Tampa, Florida
Posts: 18,917
Total Cats: 2,364

---
1st add wideband.
2nd add megasquirt.

To do this in a different order doesn't make any sense.

You're changing your fueling and have no idea what your ratio is. It's like putting on a blindfold and guessing whether the traffic light is red yellow or green.

01-04-2019, 04:06 PM
Junior Member
Join Date: Apr 2008
Location: Southern California
Posts: 316
Total Cats: -1

---
Got it. I did start a fresh basemap with narrowband and it seemed to help the start. Ignition tables were set to 14 in the idle regions. Looked at the VE table and saw where it was hovering and it highlighted the whole idle zone and kept lowering the values until the car idled nicely. After that I just changed the whole section to a static value - 34.

Car starts and idles smoothly.

The cranking RPM in the basemap was 10. After the car was warmed up...it was going no where...megamanual recommended 300. Starts up better but still meh. Anyone have a better value for this?

So far so good. Now need to install wideband.

01-05-2019, 07:53 PM
Junior Member
Join Date: Apr 2008
Location: Southern California
Posts: 316
Total Cats: -1

---
Got the wideband installed. Idle was approximately 13...woot. Still trying ti work out a few bugs. Idle, cranking, and gas tip in.

Currently MS is sticking the AF ratio at 12.10. I hooked up the UEGO signal by extensions on the factory o2 harness. Will probably need to address the sensor factors. Only set it to wideband but haven't adjusted voltage, etc.

01-06-2019, 01:06 AM
Junior Member
Join Date: Apr 2008
Location: Southern California
Posts: 316
Total Cats: -1

---
Thread
Thread Starter
Forum
Replies
Last Post