EPIC nuts/studs loosening thread (reposting stupid stuff without reading = warning)

07-31-2015, 02:40 AM
Senior Member
Join Date: May 2008
Location: Canada
Posts: 727
Total Cats: 355

---
All mating surfaces were trued before reassembly and copious amounts of Resbond 907TS threadlocker was used on the EM studs (torqued to 10-12 ft-lbs).
You can see just how beefy the 10 mm studs are. I didn't take a side-by-side picture, but there's much more meat to them than the +2 mm would indicate.
Putting everything back together with the bigger studs proved challenging. My mechanic switched out the lower exhaust manifold studs from a Nissan (IIRC). The keyed end allow you to install the stud with the exhaust manifold in place and apparently made a big difference.
My next track day is tomorrow. Fingers crossed that this finally fixes the problem.

08-01-2015, 02:58 AM
Senior Member
Join Date: May 2008
Location: Canada
Posts: 727
Total Cats: 355

08-01-2015, 11:03 AM
Moderator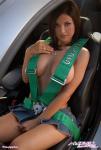 Join Date: Nov 2008
Location: Tampa, Florida
Posts: 17,915
Total Cats: 2,105

EPIC nuts/studs loosening thread (reposting stupid stuff without reading = warning)
---
Originally Posted by
DeerHunter
All together now!
Thread
Thread Starter
Forum
Replies
Last Post
Suspension, Brakes, Drivetrain
Suspension, Brakes, Drivetrain