need help with issues

02-03-2009, 12:48 PM
Senior Member
Join Date: Dec 2007
Location: worcester ma
Posts: 1,116
Total Cats: 0

need help with issues
---
90 miata
125k on clock

Stock motor

Greddy manifold
Greddy turbo,
tt downpipe
No intercooler at the moment
Hks vta bov
Test pipe
stock cat back
5psi of boost

Issue number 1

Car runs fine under 4k, blows off fine, idles fine
At 4 k, it feels like the car hits a brick wall, gas pedal to the floor and it just feels like there is no power. I have new fuel injectors on the way and I bought a fuel filter but its too cold to install at the moment. Should I buy a fuel pump also??? What could be causing this symptom, also, this just happened today, the car stalled randomly, and had much trouble starting back up (mind u its 12 degrees out side)


Issue number 2

I has little heat... its 12 degrees out side, cars temp gauge says everything is normal under the hood, car is at optimal temp, but I have very little warm air out of the vents, even full blast, the air is just barely luke warm, my old miata blew lava out of the vents, so I know this is broken. I assume the lines going into the heater core might be cloged or somthing,
How do I clean them/unclog them, is there maybe a thermostat on the back of the head I don't know about, I don't look back there too often.

Those r the only issues my car has, any help any one can offer would be appriciated, thanx

02-03-2009, 04:38 PM
Senior Member
Join Date: Dec 2007
Location: worcester ma
Posts: 1,116
Total Cats: 0

---
on a side note, i dont know how it got up there that fast, but my post count is into the 1000;s now lol,, its up to 3 posts per day, wtf?? i didnt know i spent my life on here

02-04-2009, 10:15 AM
Boost Czar

Join Date: May 2005
Location: Chantilly, VA
Posts: 76,620
Total Cats: 2,317

02-04-2009, 11:12 AM
Moderator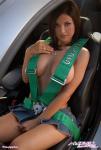 Join Date: Nov 2008
Location: Tampa, Florida
Posts: 19,304
Total Cats: 2,434

---
Post pics of gf and we'll decide if you are worth saving.
j/k
Have you had the engine open (head off, water pump) or changed the radiator? Maybe you've got silicone, rubber, or gasket material blockage.
Some systems have a valve that shuts off hot water flow as you move the mixer lever from cool to warm. I haven't yet had to check if there is one on Miatas. They are often cable or vacuum operated, so that is a point of failure.
If not, then there is still a mixer door that could be stuck or the cable is off or out of adjustment. Have you installed a new stereo or gauges near the A/C controls and possibly disturbed the cable on the back of them? Or have you done anything under the dash that might have dislocated the cable at the other end at the mixer door lever?
Does water freely flow at operating temperature (thermostat open) when you look down in the radiator filler neck? I have seen water pump impellers that corroded/wore away over time and significantly reduced flow. Just throwing it out there as a last thing to check if all else fails.
There is no factory thermostat in the back of the head. Only the front one.

02-04-2009, 11:32 AM
Senior Member
Join Date: Dec 2007
Location: worcester ma
Posts: 1,116
Total Cats: 0

---
havnt taken the motor apart, other than adding the greddy kit

i have installed a new radio, its a big indash tv, with a crap load of wires behind it, ill check this to see if this might make it work

then its off to take the rad apart and see whats going on
Thread
Thread Starter
Forum
Replies
Last Post
Miata parts for sale/trade
Suspension, Brakes, Drivetrain