Rotrex Oil Hose

01-23-2019, 05:23 AM
Junior Member
Join Date: May 2015
Location: Portugal
Posts: 83
Total Cats: 16

Rotrex Oil Hose
---
I've recently started installing a lightly used Rotrex (kraftwerks) system. The oil lines that came with it are a mix between then Automatic transmission oil lines from the filter, and some SAE100R6 hose. This SAE 100 hose seems to be in great condition, but there are some gashes so I decided to replace it (even if it could probably still handle it, since rotrex oil system does not seem to be high pressure).

I cannot seem to find any ATF oil hose around here, mostly available multi-purpose oil/water/fuel (DIN 73379 2A spec) which appears to be compatible with most fuels (except biodiesel) and oils. Though it has a max constant operating temperature of 90C (with 110C peaks).

What kind of hoses have you guys used that are known to not degrade under track use?

01-26-2019, 02:19 PM
Junior Member
Join Date: May 2015
Location: Portugal
Posts: 83
Total Cats: 16

---

01-29-2019, 04:07 PM
Junior Member
Join Date: Jul 2015
Posts: 463
Total Cats: 31

---
FYI Rotrex claims that their oil lines material helps with oil foaming; no sure if true or a marketing trick but that's what they replied to my question. For the price, I would just buy a length of oil hose off of them.

01-30-2019, 01:12 PM
Moderator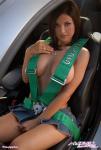 Join Date: Nov 2008
Location: Tampa, Florida
Posts: 19,023
Total Cats: 2,393

01-31-2019, 07:51 AM
Elite Member

Join Date: Jan 2007
Location: Murfreesboro,TN
Posts: 1,605
Total Cats: 99

---

02-01-2019, 07:14 AM
Junior Member
Join Date: May 2015
Location: Portugal
Posts: 83
Total Cats: 16

---
There is no way that it is not bullshit. Their hose is just normal Nitrile rubber, same as basically any other hose. Anyway, the temperature ratings from what I can gather are actually there for the rated pressure, since the rotrex oil system is very low pressure, the temperature rating doesn't really apply (IE your fuel lines can hold 100psi, but only if you keep them at the rated 80C) The hose that came with the rotrex automatic transmission oil filter is generic Gates Transmission cooler hose.

If there is something I really don't like is magic pixie dust items that You Just Have to Get From Them™ (at least with the traction fluid you aren't getting ripped off that much compared to industrial traction fluids)

Some research will show that there are not many variations of nitrile rubber (outside of HNBR), its mostly dependent on hose design and fluid used that determines the rated pressure and temperature.

Traction fluid is not a very nasty product, not even as bad as ATF. The rotrex one is manufactured by Santolubes, so it's probably a variation of their Santotrac line.

As for buying hose from them, thats a bit more expensive outside the US, and if you have hose issues you wont find it locally to fix it fast.
Thread
Thread Starter
Forum
Replies
Last Post
Miata parts for sale/trade