Meth injected TB relocated M45 190whp 170tq

08-14-2009, 04:42 PM
Tour de Franzia

Join Date: Jun 2006
Location: Republic of Dallas
Posts: 29,098
Total Cats: 368

08-14-2009, 09:17 PM
Junior Member
Join Date: Jun 2009
Location: Gresham/ Corvallis, OR
Posts: 58
Total Cats: 1

---
LOL MS? I already have AEM EMS w/ MAP senso; which is a lot better, and twice the resolution. The numbers are after a tune from a shop I used to work at, which is an AEM dealer and a friend that works is an "master tuner" which just means hes certified by AEM.
My friend with a 99 moor and MP62 easily made 240whp...and could have made more but for realiability and autocross he had it de-tund to 220whp, That is with AEM, intercooled, TB reocated.

03-04-2010, 04:39 AM
Senior Member
Join Date: Dec 2004
Location: Brisbane, Australia
Posts: 1,276
Total Cats: 34

---
Very nice numbers! My setup makes 167hp on a Dyno Dynamics with Adaptronic, the JR kit running 6-7psi, 10:1 compression (2002 bottom end), JR headers and Magnaflow muffler (2.5" all the way). I don't have water injection but I have the JR water-to-air intercooler. Are the stock injectors close to maxing out? I'm running RX-7 460cc which probably isn't helping my cause, I think the stock ones spray better.

The tuner I use is well respected but usually only does Haltech, Autronic and MoTeC.

Can you post up your ignition and fuel tables?

03-04-2010, 07:19 AM

---
Since you used the word "integral" I'm going to say that yeah...I like your torque curve.

Those are very impressive numbers, especially for such low manifold pressure. Methanol IS doing more than intercooling though, it is a fuel after all. It's allowing you to seriously advance timing by acting as a detonation deterrent.

VERY good tuning. I would not turn away from a drive in that.


Joe's right though about your torque curve dropping off up top. At higher hp/flow numbers I'd blame the manifold, but this shouldn't be a problem at your power level. In this case I wonder how much is to blame on blower inefficiency at those rpms, and how much of it is our stock cams tuned for mid-range torque.

If you ever start to feel like it's running out of breath up top, maybe look into an adjustable gear on the intake cam, but honestly your torque drops off less than 90% of the turbo setups I've seen, but those are all around 250whp, where the intake mani/throttle body are a restriction.

03-04-2010, 08:35 AM
Boost Czar

Join Date: May 2005
Location: Chantilly, VA
Posts: 76,100
Total Cats: 2,268

---
Soflairick's heavily modded mp45 setup was making 190rwhp like 3 years ago, and then the supercharger let go, irrc...however, the most basic SR20 T25 setup makes a more impressive setup to me

03-04-2010, 09:14 AM

---
Almost equivalent torque curve, but his supercharger setup is getting over 150ft-lbs almost 500rpm sooner, and holds it past 6500rpm, a little longer and with a shallower tangent than the tiny turbo. This of course nets it a little more peak power as well.

But I'm sure an SR20 T25 with a well-tuned AEM and meth injection would do just as well, if not better.

03-04-2010, 09:28 AM

03-04-2010, 02:22 PM
Moderator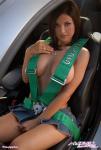 Join Date: Nov 2008
Location: Tampa, Florida
Posts: 18,724
Total Cats: 2,343

---

03-04-2010, 02:45 PM
Elite Member
Join Date: Jun 2007
Location: Overland Park, Kansas
Posts: 5,362
Total Cats: 43

---
Whats this "custom throttle body relocation" crap?

I want pictures..

For about 2 weeks I had the throttle body on the intake where it belongs w/a blowoff valve and driveability was COMPLETE ****. At part throttle on the highway to maintain 65mph with any kind of load the compressors bypass would close and start making pressure. On a 30 degree day I was seeing 240 degree IATs at a nearly ZERO load highway cruise! Charger has an 8psi pulley and wouldn't ever pass 6psi, even at redline. Swapped the throttle body around to the rear of the charger now it makes 8 - 12psi at redline, depending on belt slipping.

Car feels pretty quick but still isn't **** against the "205rwhp" chinacharger setup on the blue car, which held against a lightning the other night w/8psi pulley, headers, full exhaust, and a great tune..

07-06-2010, 02:13 AM
Junior Member
Join Date: Jun 2009
Location: Gresham/ Corvallis, OR
Posts: 58
Total Cats: 1

---
haha...can't believe I missed the resurection of this thread. But would like to add a little to it:
First, I have definatetely questioned the numbers my car made. I was hoping someone who is much more knowledgable in tuning than I am could look at my fuel and ign tables. I just recently have been learning how to use AEMPro and and still trying to learn more about actual tuning. Unfortunately the only AFR I have is off the dyno pull since I dont have a WB.
But I would really like to get some useful input, cause this was 4 hours of tuning at $150 an hour, and if they just fudged the numbers to make it look better then I really would like to have a talk with them! But first want to make sure I have grounds to do so..
Anyways if there is anything else from the tune I should post that I can dig up I'll try to do so. Thanks
IGN
Fuel
Thread
Thread Starter
Forum
Replies
Last Post