Exocet based on 99 donor question

01-08-2019, 08:56 PM
Moderator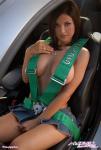 Join Date: Nov 2008
Location: Tampa, Florida
Posts: 18,143
Total Cats: 2,163

Exocet based on 99 donor question
---
Helping Garman decide what components to ditch on the fueling and charcoal canister front for his exocet build.

He is going to be initially starting the car on the stock ECU verify operation and then will be switching to megasquirt.

We are in a non emissions state.

The shiny round cap in the top of the fuel tank is connected to a hose which is connected to a T. One side of that t goes to the filler neck and the other side goes to an electrical component and a charcoal canister I believe. What can be done with this?

There is another small hose on the filler neck that appears to go to some other electrical components and possibly the front charcoal canister. What of these things may be omitted?

The objective is to eliminate everything non-essential. If you are making a dune buggy what things are necessary and what things could and should go away?

I've included pictures of some of these components to Aid in identification but I'm driving and it is dark and I'm using the mobile app so I can't label or make arrows or even research on a computer right now. Any assistance or clarification would be greatly appreciated.

01-08-2019, 09:45 PM
Design Engineer

Join Date: Jan 2013
Location: Seneca, SC
Posts: 3,226
Total Cats: 412

---
Pics and Schematic
You want to keep the line going from the tank to fuel neck and then from fuel neck to the vent. That way you get a anti-syphon and won't drain the tank from the vent. Just don't over-fill or you will force raw gas out of the vent.
Where you pulled out the canister, splice that into the line coming from the fill neck. You can see the re-connect on the diagram. Dump all electric stuff except the pump.
Of course this presumes you use your original fill, which I don't know is true on an Exocet.
EDIT: If that does not answer all the questions, post again and I'll respond to each one. Also the shiny thing is a roll-over that plugs the vent and prevents gas from spilling... in a rollover.
Thread
Thread Starter
Forum
Replies
Last Post
Miata parts for sale/trade